Here is Part 2 of my list on the Top 10 Ways to De-stress for Teachers! Happy reading!
Read Part 1 here.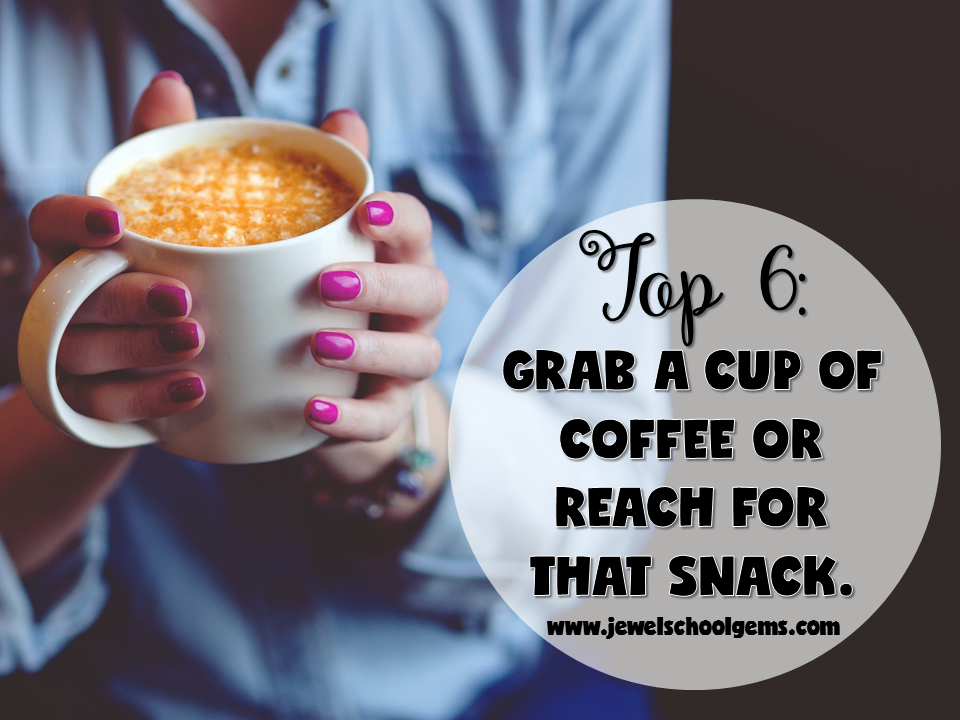 6. Grab a cup of coffee or reach for that snack. I know many will say that food shouldn't really be used to deal with stress, but let's keep it real here. Who doesn't love having that occasional treat to feel better, especially after a long tiring day?! Certainly NOT these educators:
Judith M Darling: Before I retired in Alaska, I would head for Vagabond Blues coffee shop in Palmer, get a caramel latte, sit by a big window and relax while looking at the mountains and watching people walk by. I miss those days very much.
Sara E.: A nice hot cup of tea and some peace and quiet to work on my TpT products before my kids come home. A Coke Zero, a bowl of popcorn and some 'fixer upper' are also a fave.
Sheena Lannin: Curl up on the couch with a good book and chocolate! Or red wine and chocolate! Or a cuppa and chocolate! Notice a theme here?
Karen Walkup Hester: I've gotten in the habit of stopping at Sonic and getting an ice cream cone to enjoy on the way home. Probably not the healthiest, but I sure look forward to it!
7. Enjoy music. The calming power of music is well-known. It can relax the mind, absorb attention and provide much-needed distraction. These teachers can attest to the soothing power of music:
Chrissy Webster Hutzel: I play clarinet, tuba, and sax with a bunch of retirees in an accordion band. We rehearse weekly and perform two to three times a month at nursing homes, retirement homes, churches, and Oktoberfest celebrations. So much fun!
Joya Crawford: My favorite thing to do is turn up the music on my drive home and sing along as loud as I can… Gets all the stress out! My first couple years of teaching I had a mix tape I listened to every day on the way home. Yeah I just admitted I'm old…
Keri Powers-Pye: My 2-year-old and I turn on the Baby Einstein Pandora station and dance like fools around the living room! Our personal favorite is the reggae version of Five Little Monkeys.
Sally Bondelevitch DeCost: I have a cup of tea, turn on mindless TV, and surf the net then, once a week, I sing with my singing group. Singing always makes me feel better, and I love the people in my group!
Jeanine Arlotta Schneider: I love listening to the spa station! Relaxing music always helps me!
Chris: Playing guitar and having a beer. Then, crash.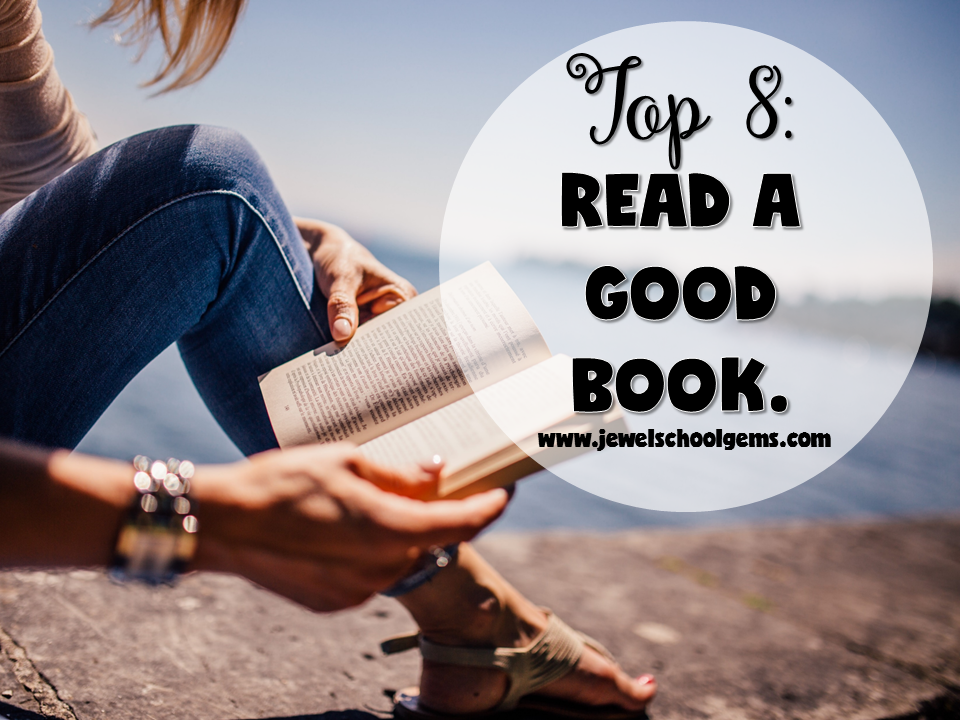 8. Read a good book. Reading can actually help reduce stress faster than other methods. According to a research, just six minutes of reading can help reduce stress levels by more than two thirds. Take it from these teachers:
Crystal Lee Gillespie: I like to read novels. Getting caught up in a good book takes my mind off a stressful day. I especially love being able to sit outside and read when the weather cooperates.
Najda Zada: This one's a tad boring, but most often I'd like to give myself a "me" time by reading a book or scrolling through my phone with a cup of tea.
Joey Pastor: I go to the gym, read a good book and sleep!
Stacey Carlson: A good book, a cup of tea, and a few yummy treats.
9. Walk or play with a pet. While having human friends to talk to and do fun activities with is awesome, having a pet is also actually quite beneficial. Pets are great stress relievers. Owning a dog, for example, is found to reduce blood pressure, boost feel-good chemicals in the brain, and decrease stress hormones. These teachers prove the fabulous benefits of having a dog:
Michelle Stern: Spending time outside with my dog is relaxing and soothing.
Tracy Willis: Hiking trails with my dog, Gracie.
Christine Barnett: I usually take 10 minutes when I get home to sit and cuddle with my dog! Pets are such great stress reducers. Just 10 minutes with her calms me down!
Lori Mcdonald: I walk my dogs who are so happy to see me, they can't get to me fast enough. They love me unconditionally.
10. Do what makes you happy! At the end of the day, I believe it's important that we do whatever makes our hearts sing. I think we should do whatever makes us forget the stresses of the day (as long as it's not doing drugs, of course! LOL!). You might get some ideas from these teachers:
Karen Crawford: I love to dive into a Dollar Store or Target Dollar Spot (Retail Therapy). Yahoo!
Kelly Rivett: A hot bubble bath with candles flickering and a movie going on the ipad. Or simple window shopping trip to the mall.
Jackie Clarke: After the children have left, I make a cup of tea and reflect on the day as I plan for the next.
Meghan McLane Mathis: Lately, I've been focusing on trying to accomplish something else UNRELATED so I can get that feeling of successful accomplishment that I didn't get in class that day. Sometimes I'll clean up the kitchen, mow the lawn, pull some weeds, fold the pile of laundry that's been sitting in the laundry room since the weekend before, or even vacuum a room or two. It isn't "fun," but a lot of time I can't have "fun" yet because I'm still stewing over what happened at school. By getting SOMETHING accomplished, my brain can relax a bit. Maybe today was a mess in class…but my stovetop is spotless!!!  From there, I can do something more enjoyable. Sit on the back porch and read a book, watch a dumb TV show, play with my kids, etc.
Jennifer Booker Smith: I knit, and a teacher-heavy Stitch n B* group has kept us all sane, and probably made us better teachers. It gives us a "safe" place to vent and we get useful feedback for the issues causing us stress. ("Safe" because we don't work together.)
Alisha Hughes: This year back at full time work has been out of control! (As I take deep breaths) I actually scooter part way home each day to catch the ferry. Great way to destress and even better when there is a sunset. I also play PS4 or puzzle games which takes my mind completely off work. A glass of red wine helps, too.
Personally, going to the mall, eating some sushi, and buying toys and clothes for my toddler relax me. Some days, it's just taking a walk around our farm, feeding the chickens, watering the plants, or chasing my daughter in her mini-playground. I also enjoy meditating, reading my Bible, and praying.
There you have it, my teacher-friend! I hope you got some ideas to make your days more relaxing and less stressful! Thanks again to the wonderful teacherpreneurs who shared their de-stressing tips. Just click on their names to be taken to their TpT stores.
Now, to add some more feel-good chemicals to your brain, let's do a GIVEAWAY!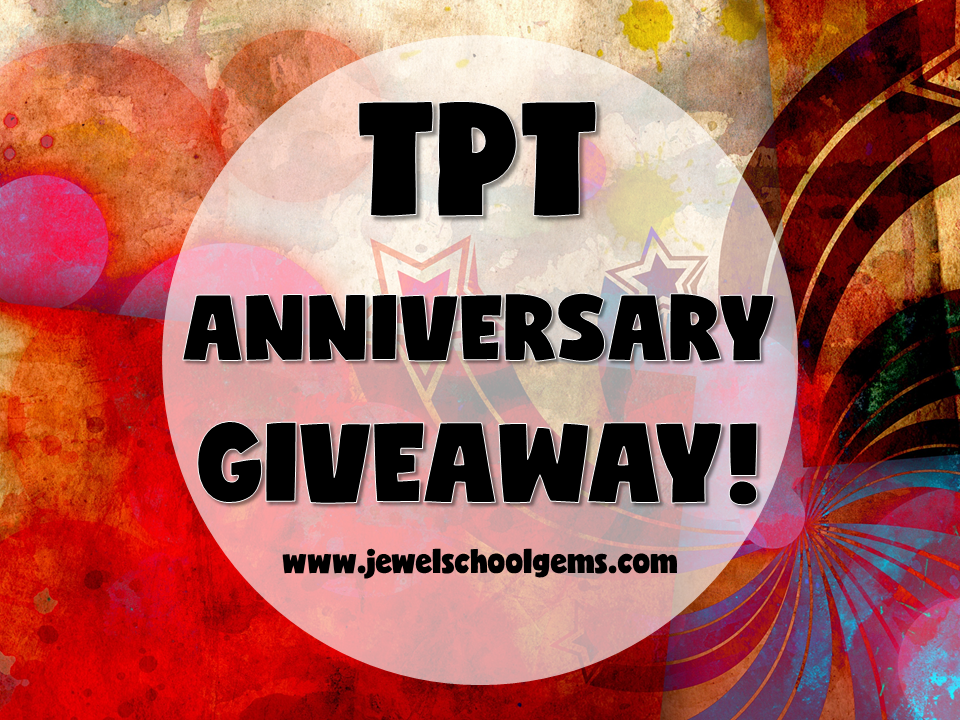 Enter the giveaway through the Rafflecopter app for a chance to win a $25 TeachersPayTeachers gift certificate! This is also to celebrate my second TpT anniversary tomorrow (such a blessing!). The winner will be announced on my birthday on the 23rd of May.
Happy de-stressing and I hope you win!