Looking for ways to de-stress for teachers? I know, it's that time of the year. You might be in the middle of doing tests with your students or you're done with tests and are simply trying to survive till the end of the year. Admit it, kids go crazy at this time of the year and your stress levels can shoot through the roof. Well, the good news is you're not alone (LOL. Okay, that's just not so comforting), but the even greater news is there are many ways to de-stress at the end of a working day!
I compiled tips from fabulous teachers of the TpT Down Under Tribe and #TeacherpreneurTribe on Facebook, and came up with this Top 10 list on ways to de-stress for hardworking teachers like you! I got so many valuable tips that this is just the first of a two-part blog post (By the way, make sure to read till the end to score a freebie!). Read Part 2 here.
Are you ready for the Top 5? 
1. Do some exercise. It is a well-known fact that exercise in any form can act as a great stress reliever. Physical activity increases production of endorphins, your brain's feel-good chemicals. Take it from these teachers:
Nicki Jean: I love weight lifting!
Jennifer Garcia: I love working out! A good spin class or kickboxing class definitely helps me de-stress at the end of the day.
Megan Harrell: Working out! We do a fit club after school. Gives me the energy and focus I need to get through the rest of the day!
Brittany Philipsen: Late night yoga after I put the kids to bed! Keeps me up past my bedtime, but it feels oh so good. And I feel rebellious staying up trying to wind down once everyone has fallen asleep.
Bec Perry: Yoga! Specifically shoulder stand pose helps the stress go away.
Tammy Aiello: When I was younger and child-free my absolutely FAV thing to do after work on Fridays was to go rock climbing with a colleague. TOTALLY de-stressing.
Retta London: Zumba, yoga, and reading—all great to unwind!
Ashley Robinson Duff: I'm a big advocate of exercise, so I run. I also do yoga at a place that has a class with essential oils and the teacher always plans a super beautiful sensory class with music, oils, and just the right amount of sunshine. It helps me revive in the winter or calm down during autumn when things are crazy!
Christina Gray: During my first two (very stressful) years of teaching, I ran after school everyday with another teacher. We would run around the school, on the track or in the neighborhoods near the school. Although it was not easy to do every day, the exercise and being able to talk though a rough day with a fellow teacher really helped me to survive.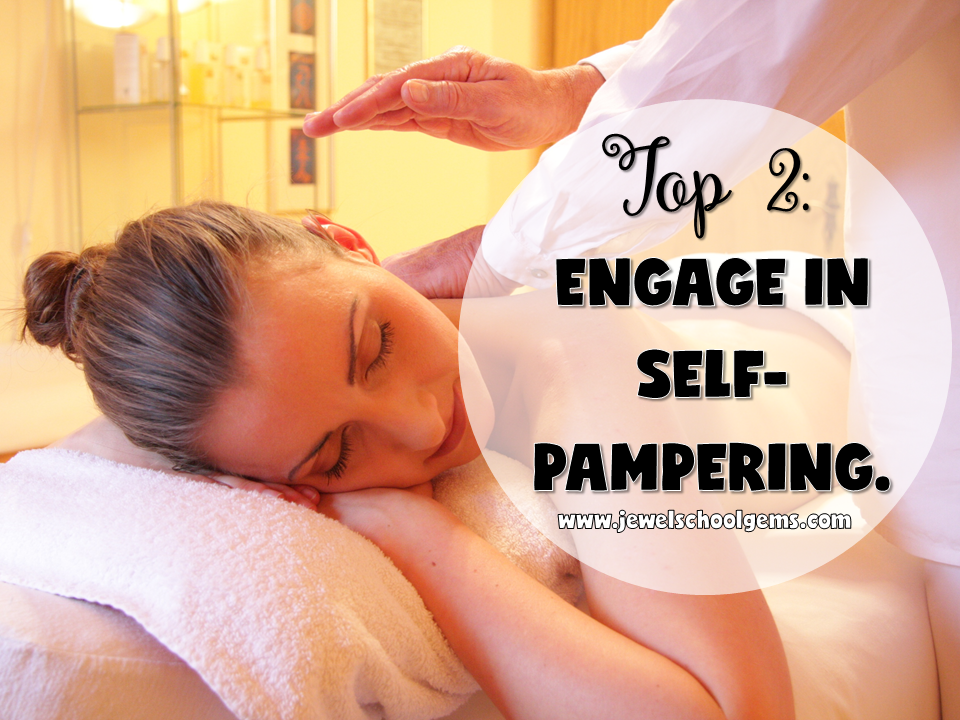 2. Engage in self-pampering. A little self-pampering can go a long way in helping you recharge those teacher batteries and keep you sane! Some "me time" is definitely recommended by these teachers:
Katie Roltgen: I love getting a mani/pedi with a fun spring color! I don't usually splurge on them, but the end of the year is special!
Lauren Kuhn: Coconut Detox Soak! Pour one cup of coconut cream under the warm water as you fill your tub. Add 1/2 cup of magnesium salts (called Epsom Salts here in Australia). Soak for 20 minutes to feel your muscles melt! Candles and wine are not necessary but a lovely luxury.
Rachel Vincent: Everyone has such great ways, but honestly, the best thing that helps me de-stress is to take a nap!
Mary Carr: My team mates and I spend a few minutes after school once a week painting each other's nails and just hanging out in one of our classrooms. It's fun and cheap and helps us unwind.
Tessa Miller-Schweder: Spa day! Once a quarter! Absolutely amazing!
Amy O'Grady: A nice hot bath, eat some chocolate and a little bit of T.V. or TPT creating.
Jennifer Bailey: For many years, I had a difficult time turning my mind off of my school stress, worries and work. On a whim, I signed up for a meditation class. It turned out to be one of the best things I have ever done. I learned so much about being in the moment, quieting my brain and focusing on my breathing. I begin each day with a few quiet minutes of meditation. When I find my morning going awry, I take a few minutes during my lunchtime to re-center myself. It's such a powerful way to manage the stress and worries of teaching!
3. Watch Netflix or TV. Some people will disagree about TV and de-stressing, but many teachers actually find that watching their favorite TV shows has a calming effect. These teachers attest to the de-stressing power of Netflix (and a few yummy treats!):
Whitney Murry Shaddock: Normal day: playing with my 3 year old!
Bad day: Netflix and sherbet ice cream after I put the kiddo to bed!
Alexandria Becky: Netflix! I am currently re watching Gilmore Girls…so good!
Sandra Riddle: I love to put on comfy pajamas, climb in my recliner, and spend some time with a celebrity boyfriend (like Sam Heughan, currently portraying Jamie Fraser on Outlander). Oh, and my husband is totally okay with this!
Karen Crawford: I grab a glass of wine and switch on Netflix.
Casey Patch: I have a crazy 2-year-old! When she goes to bed, I grab myself some snacks and watch some reality TV—think Keeping up with the Kardashians and The Real Housewives. Sometimes I even beg hubby to go on a slushie run for me depending on how my day went! Haha!
Vikki Longthorn: Binge watching The Bold and the Beautiful and realizing how wonderful my life is in comparison!
Jacqui Johnson: Wine, chocolate and Netflix!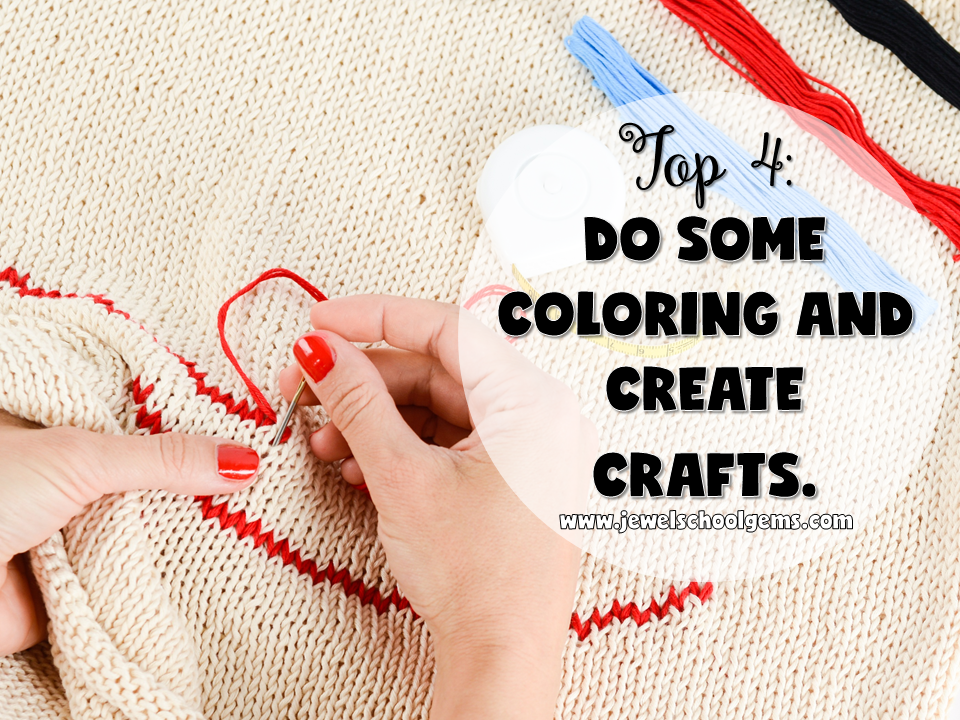 4. Do some coloring and create crafts.
Researchers have acknowledged the benefits of art for years. It's not surprising then that these teachers do coloring and create crafts for stress relief:
Deborah Griffith: I love to unwind by art journaling. There are several great free classes online. If you haven't tried it, you should!
Katie Fewell: I just bought a new coloring book.
Erin Perry: I also do coloring books, but one of my favorite things to do is to send special gifts to other teachers to spread the happiness.
Josie Io: Getting comfy, taking the dog for a walk and those adult coloring books.
Martha Hach: I like to read, color, or play the piano. Typically, I fall asleep before I can get to do one of these things though!
Wendy Darcy: I make beaded jewelry or take a weekend away!
Linda Look: I make quilts! I love to design them and the stitching part is very peaceful for me.
Bev O'Loughlin: I love photography so when I can, I head down to the beach to sit and wait for the sunset.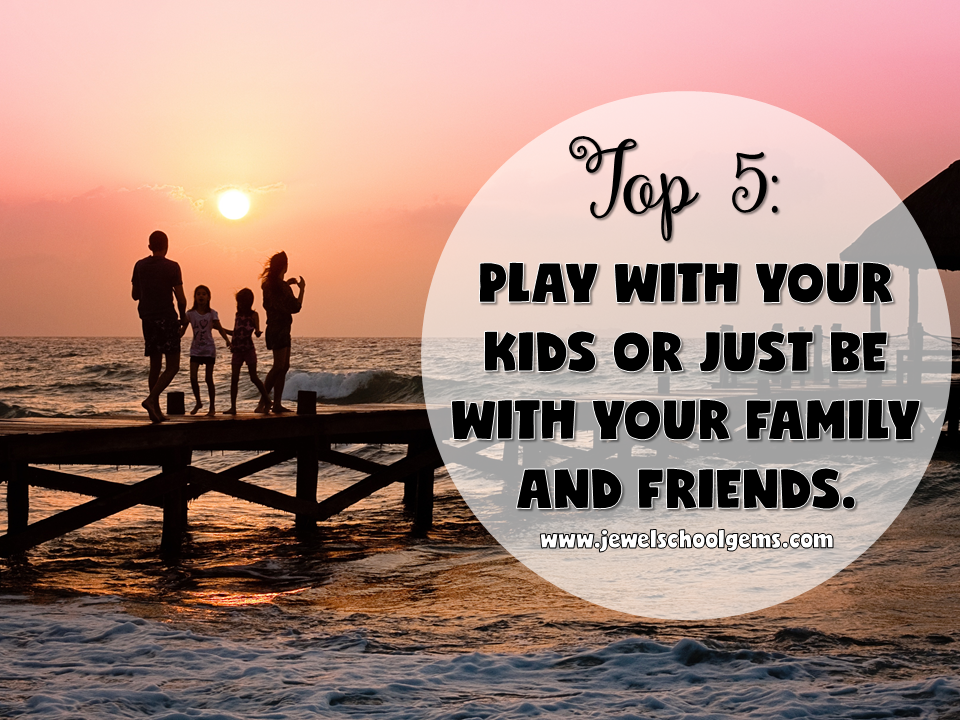 5. Play with your kids or just be with your family and friends. Strong social support is actually crucial in battling stress. These educators find being with their loved ones an effective way to destress at the end of a working day:
Amy Lawrence: I leave my school stress at school. It will still be there tomorrow. I go home and unwind playing with my boys, and enjoying time at home.
Jane Ro: Playing with my children and listening to their funny stories about their day.
Rebecca Randall: I would love to be able to fall into bed during the working week having already de-stressed and without a single thought of school! That being said, we make it a thing to have family dinner (with everyone who is home), altogether, at the table, every night!!! Love, love, love it!
Rosie Ponifasio-Hughes: Before kids: Walk the dog on the beach barefoot (often with a cold boutique beer in hand). After kids: Change out of my work clothes and into old stretchy pj pants and make them some afternoon tea snacks (and then eat most of it myself! Ha ha ha!).
Nikki Wade Sabiston: I'm looking at all these amazingly positive and productive de-stressers and feeling sheepish because I just sit out on the patio and have a beer while the kids play in the backyard. If it's been a particularly difficult day, chocolate may be involved.
Kim Field: During the fall and winter my kids are playing sports at their high school. There is nothing better than leaving a stressful day behind and watching your child play in a game that he or she loves. I also like to walk—either with my dog or with a friend.
Whew! There you go, girl—the first part of the Top 10 Ways to De-stress for Teachers! Make sure to check the blog for the other five in the following weeks! I hope you got some ideas from the amazing teachers who contributed to this blog post. Just click on the names of these wonderful teachers to be taken to their TpT stores!
In the spirit of de-stressing, grab three adult coloring sheets for FREE when you become one of my loyal subscribers! Just click on the image below! Enjoy and have a relaxing, stress-free day!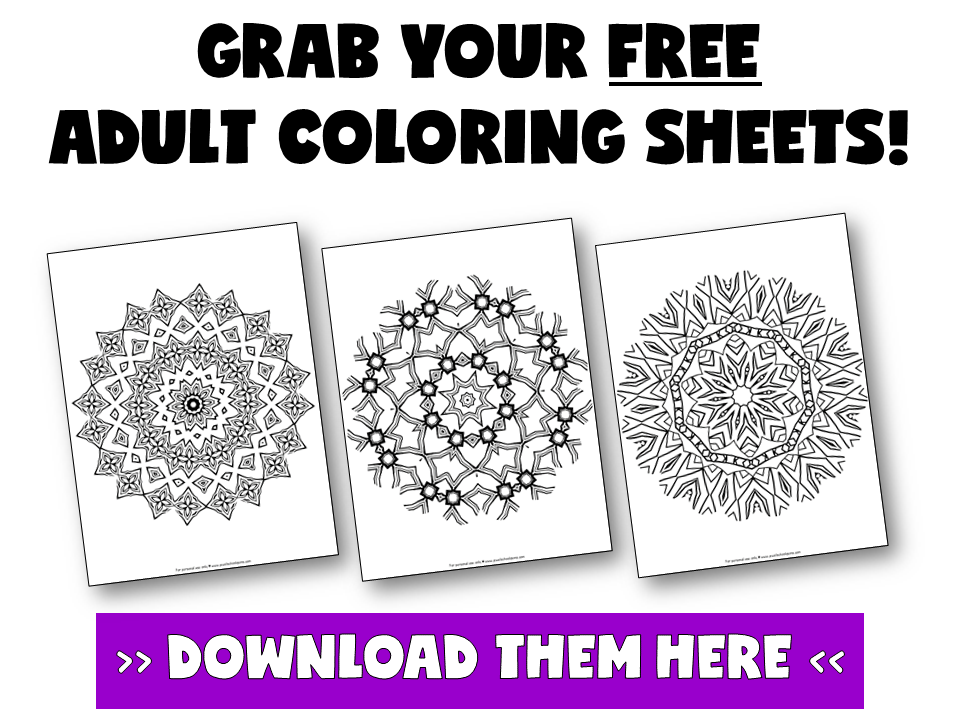 What other ways can you add to the list above? Tell us in the comments. 🙂