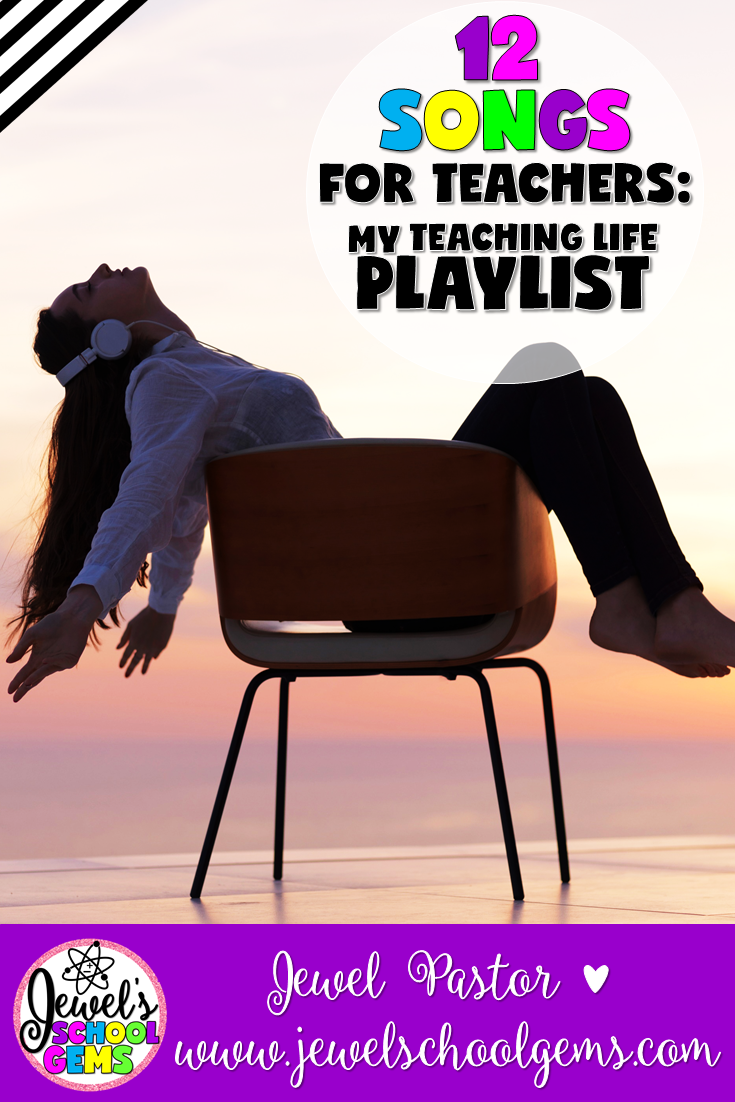 If you could describe each year of your teaching life with a song, what would your playlist look like? After coming up with my list below, I realized mine is a mix of old and new upbeat tunes, plus a lot of feel-good and inspirational songs. These songs very well describe the experiences I've gone through all these years. Here are some songs for teachers like me and you:
2003: Walking on Sunshine by Katrina & The Waves
This was the year I graduated from college and got my first teaching job!
Related: THE BEGINNER'S GUIDE FOR THE CLUELESS STEM TEACHER: Three Super Simple Frugal Ways to Get STEM Supplies
2004: The Climb by Miley Cyrus
This year was busy. I taught English and Journalism in my high school alma mater during the day and education subjects to college students at night.
2005: Fight Song by Rachel Platten
I left my high school alma mater and joined its rival school. I was still teaching college students on weekends.
2006: I Gotta Feeling by The Black Eyed Peas
This was the year I was hired by the University of the Philippines Integrated School (UPIS)! It was the first of three fulfilling years in the prestigious university's laboratory school.
Related: 5 STEM Myths Everybody Really Should Ignore and Why
2007: Happy by Pharrell Williams
I was really happy with my teaching life in UPIS. Colleagues were actually my friends and students were very bright!
Remember to download your FREEBIES HERE.
2008: Beautiful by Christina Aguilera
This was the year I got more confident as a teacher and as an individual.
2009: Unwritten by Natasha Bedingfield
This was the year I gave up my teaching position in UPIS and decided to move to Australia.
2010: Born This Way by Lady Gaga
I realized how different I was to most of my new colleagues and students this year. I think this was one of the saddest years in my teaching career.
Related: How to Help a Colleague with Depression
2011: Brave by Sara Bareilles
This year, I had the opportunity to become a tutor, a substitute teacher, a part-time ESL teacher and a full-time Kindergarten teacher in a new school!
2012: Stronger (What Doesn't Kill You) by Kelly Clarkson
This was the year I married the love of my life and was transferred from Kindergarten to sixth grade. It's also the year that I realized how great I could be as a teacher. I loved my sixth graders! I felt happy to be a teacher again.
2013: Just the Way You Are
I had sixth graders again this year and they were fantastic, too! I felt loved and I loved my kids as well. This was despite being sick for most of the year as I was pregnant with my child.
2014: Somewhere over the Rainbow by Israel "IZ" Kamakawiwoʻole
This year, I spent the first half of the year on maternity leave. I also started getting serious with my TpT journey during this time. Being a mother was an absolute joy; however, I had to go back and teach again. This time, I had fourth graders. Though there were more kids in the class, their sweetness and enthusiasm made up for any difficulty I had with a bigger class size.
2015: Roar by Katie Perry
This was the year when I embraced my "inner resource artiste". I left teaching to become a full-time resource creator and to take care of my daughter.
Check out my TeachersPayTeachers store HERE!
So, there you go, girlfriend. A few songs for teachers like you and a short story about me.
To see more of my work, CLICK HERE to check out my A YEAR OF STEM ACTIVITIES FOR ELEMENTARY BUNDLE.