Eels, sharks, manatees, dolphins, fish and shellfish – all of these are ocean animals. Ocean animals and the habitat they live in (the ocean!) are vitally important to humans.  While ocean creatures and their ocean habitats are essential in keeping various ecosystems in balance, many ocean animals also serve as food to billions of humans (and other animals) worldwide. These are just two of the many reasons why learning about and understanding ocean animals are soooooo important!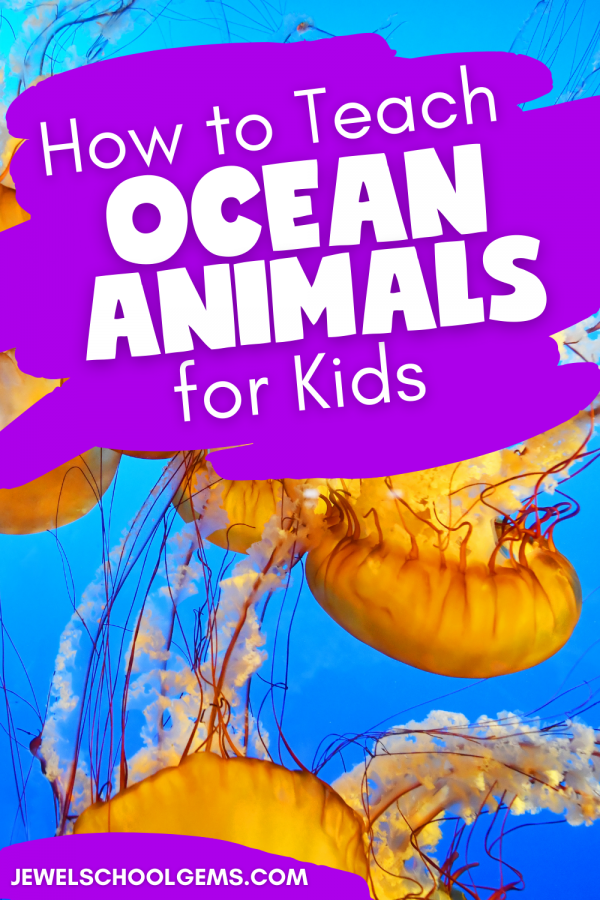 Ocean Animals for Kids: Why You Should Teach It!
Why teach your students about ocean animals? Well, to begin with, it's likely part of your school's curriculum. Second, learning about these animals is tied to helping your students learn about larger environmental issues, like pollution of water sources and water scarcity. These are issues that are constantly part of current events that kids need to be aware of in order to have a well-rounded education. Climate change, the melting of glaciers and icebergs, and the growing list of endangered ocean species are results of problems that affect ocean animals and the environment at large. Also, when you teach your students about ocean animals, you're providing them with facts and background knowledge that allow them to empathize and care for other creatures in their world.  Having the next generation develop a desire to care about the ocean and its animals gives us all the chance for a better world in the future. The question now is: How can we make learning about ocean animals engaging and exciting?
Related: 50+ STEM Challenges for Elementary Students
Teaching Kids about Ocean Animals
It can be said that there are as many fun ways to teach about ocean animals as there are animals in the ocean! Pique your students' curiosity about ocean animals by using an engaging resource like a video or a collection of photos of strange ocean creatures. You could even introduce the topic of ocean animals with a pre-test that's simple (and easy for you to create!). For example, you can prepare a short PowerPoint with ocean animal photos and a coordinating numbered list for kids to fill out as they watch, so you can see how many ocean animals they can identify. You should introduce key vocabulary that will be used in the unit at the beginning as well. You can use one of the resources in my Free Resource Library for this purpose: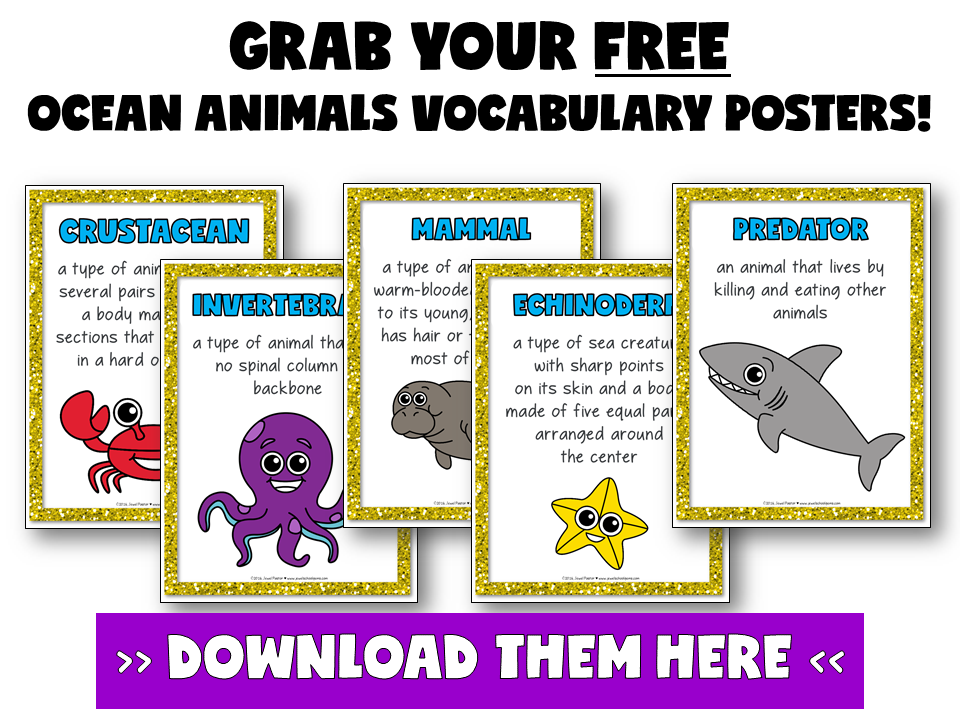 Here are other ways your students can learn about ocean animals:
Read an ocean animal-related book aloud and discuss with the class as you read. Some titles can include: Tara the Sea Turtle, In One Tidepool, and Weird Sea Creatures.
Play ocean related video games.
Make ocean animal crafts.
Have students create a "My Ocean Animals Fact Book" with their own hand-drawn illustrations and facts. These can be displayed as class artwork and are also very impressive (and adorable!) when presented to parents during student-led conferences or parent-teacher events!
Play fun interactive learning games that focus on ocean animals.
Follow up the end of the unit with a post-test that is very similar (if not the same as) the pre-test that was given at the beginning of the unit.
Have a class celebration of how much they've learned as they compare pre and post-tests! A popular and easy to organize way to celebrate is by watching a movie on ocean creatures like Finding Nemo or Finding Dory. 
Related: QR Code Scavenger Hunt Essentials for Beginners and Digital Escape Rooms Explained
Teaching Ocean Animals for Kids with Jewel's School Gems
I currently offer a fun ocean bundle resource pack, which includes Ocean Animals Bingo, Ocean Animals I Have Who/Has, and Ocean Animals Finger Puppets. This Ocean Animals Bundle will not only save you time, but make learning about underwater animals enjoyable for your students as well.
Want More Teacher Resources?
Save yourself valuable time and money by becoming a Jewel's School Gems Club member. Hundreds of STEM resources plus a minimum of 52 new resources each year at your finger tips! Click here to learn more!