A few years ago, when my friend first got word that her school would be embracing STEM, not everyone was pleased.
Like many of you, she didn't get much instruction or training, only that now they were supposed to "do it".
She and a colleague decided their best bet was to find something pre-packaged and quickly came across a picture of exactly what they thought they needed.
They squealed over a fully stocked cart on wheels with a cute, colorful sign, but as they read about that little beauty's features, a trace of doubt began to creep in. It boasted of 40 STEM projects and hundreds of components. This thing was gonna be expensive!
Reading a little further they regained hope. "Schools get true value for their dollars, with an average project cost of $3. Prices are so low, kids can take their creations home" Yes!
No. Eagerly, they clicked the picture to see the actual price was almost $7,000! They were shocked!
Not surprisingly it had no reviews, and no ratings. I don't know any teacher's who get that kind of budget, do you?
Several days later, she learned not only would they not be getting $7,000, but their budget was also miniscule. That same evening, her colleague bailed. The email said she was going back to teaching music. She was sorry, but this was just too hard.
And she was right! Setting up a STEM classroom from scratch is hard! But it doesn't have to be hard for you! I'm excited to reveal to you everything I learned along the way!
Today, I'm sharing with you three super simple steps to collect tons of STEM supplies with little or no money.
STEP 1: COLLECT THINGS EASILY FOUND IN YOUR CLASSROOM
The first steps is totally straightforward! Begin collecting things easily found in your classroom such as tape, paper clips, rubber bands, and craft sticks.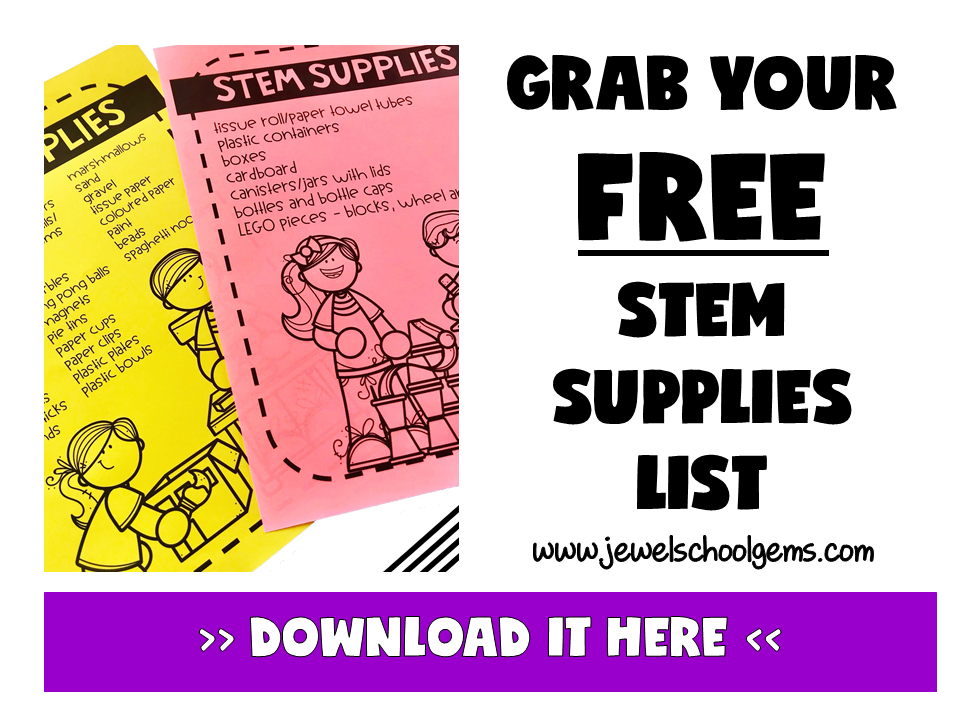 STEP 2: MAKE A LIST AND ASK PEOPLE
Next, make a list of inexpensive items and things that are typically thrown away. Cardboard toilet paper tubes, empty jars, bottles and K-cups, screw, nuts and bolts, newspaper and packing materials are just a few. There can also be crossover with the things you already have in your classroom. Then, ask people! Friends, colleagues, parents. You can download my STEM supplies list for FREE here when you become a subscriber. Send them home and put a stack in the teacher's room. Even the parent who never participates, will gladly send you their garbage!
STEP 3: GO TO THE DOLLAR STORE
The third step involves going to the dollar store. Wait a week or two after sending home the lists to parents. You want to have a waiting period so you can fill in the gaps. Again, there can be a crossover between here and steps one and two. Some useful things you can get at the dollar store are coffee filters, batteries, pool noodles, and straws. Oh, by the way, did you know you can order from Dollar Tree online?
BONUS STEP
If garage sales are popular where you live, you can pick up LEGOs, blocks, yarn, playing cards and lots more for next to nothing – especially when you tell them you are a teacher!
SUPPLY MANAGEMENT
While at the dollar store, pick up some clear shoe boxes and small laundry baskets. As soon as materials start coming in, you should begin management. Clear shoe boxes stack well and allow you to easily see the contents. Small laundry baskets are great for items like newspaper, pool noodles and other larger items. Small divided containers are just the thing for tiny pieces like washers, nuts and bolts and screws. Label each container with a picture and name label.
Depending on your grade level, students can help you get your STEM area prepared. To keep everything organized after a STEM activity, add a STEM Helper to your classroom job rotations.
And there you have it! A nicely stocked STEM area.
No, it's not a $7,000 cart with a cute sign, but I bet you can do at least as many challenges and activities as the fully stocked cart promised! Plus, your students will be proud of their contributions toward creating your STEM area, STEM lab or MakerSpace.
I hope you enjoyed this post and found it beneficial. Remember to download your FREE STEM supplies list and follow the blog for loads more tips and advice for the beginning STEM teacher.