What Is the Scientific Method and Why Is It Important?
Basically, the scientific method is just a set of steps that scientists use to research something or solve a problem. In scientific terms though, it's described this way: a problem or question is identified, information about the problem (or question) is collected, a hypothesis is created from the information known, and then the hypothesis is tested. While that explanation works for scientists, some of your kiddos might give you a blank stare if you say all that so let's restate it in student-friendly language: If we need to learn about something or solve a problem, we can use the scientific method as a way to help show us how.
Now that we're clear on the definition of the important process, it's important for kids to learn about the scientific method because it's the basis for all the science knowledge that's been gathered in the world so far. It's also the standard for how scientists around the world do research and solve problems.
Given how important the process is, here's a "kid-friendly" list of the steps to the scientific method:
Purpose. Ask a question or decide on a problem that needs to be solved.
Research. Gather information and observe.
Hypothesis. Predict the answer to the question.
Experiment. Test if your hypothesis is correct.
Analysis. Record what happened during the experiment.
Conclusion. Present your final answer to the question.
Do you need a visual reminder for your students? Grab my free scientific method posters below by becoming a Jewel's School Gems subscriber!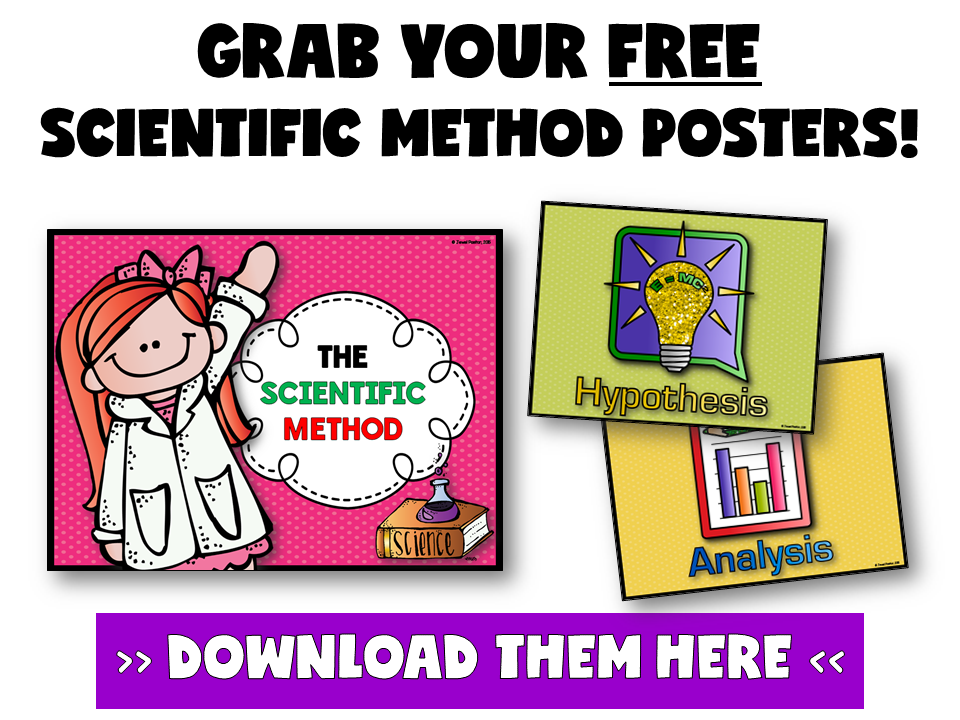 The Scientific Method for Kids: Why You Should Teach It
On top of being part of your school's curriculum, as well as the science world's standard for how to conduct research and solve problems, kids need to learn about the scientific method because it's one of the fundamentals of science (and any science-related curriculum).
As teachers, we also love the positive side effects of kids learning about the scientific method: they become more curious about their world and how things work, they become more observant of their surroundings, they learn a new way to solve problems—whether in school or out!
Learning the scientific method is also very important because our students will be able to gain knowledge on keeping track of sequences, and cause and effect relationships.
Teaching the Scientific Method to Kids
The best ways to teach kids the scientific method, as you've probably already guessed, are through visuals, graphic organizers and hands-on activities!
Here are some fun experiments to try that will get your kids excited about the scientific method:
Which brand of popcorn has the most popped kernels?
What is the fastest route to school?
What is the cafeteria's most popular food?
What makes ice melt faster or slower?
What can make old coins change color?
Just like the fun experiments mentioned above, there are so many engaging ways that kids can learn about the scientific method! A long-term experiment that students will look forward to monitoring every day is a classroom garden, with some plants by a window (sunlight) and others in a darker area of the room. The hypothesis for that one being: Will plants grow better by the sunlight or away from it?
Related: How to Teach Plants for Kids
Here are some ideas to get you started:
Assess prior knowledge with a pre-test based on the scientific method itself, and the vocabulary associated with it (i.e. hypothesis, data, etc.). The FREE scientific method posters in our Free Resource Library is perfect for this!
Introduce the process in an engaging way with this PowerPoint.
Have kids vote on what experiments they'd like to conduct first!
Have students set up the experiment in your class, with stations by the windows, in a darker area, and other locations.
Show interesting videos that demonstrate "cool" science experiments.
Related: 3 Reasons Why You Should Definitely Do Cool Science Experiments
Have kids keep track (and stay organized!) with everything they've learned about the scientific method by using this awesome flipbook!
Lastly, remember to have fun with the scientific method! If you make science exciting for kids, they will develop a true love of it!
What are some fun ways that you do to teach about the scientific method? I'd love for you to share your ideas in the comments below!  Thanks for your time! Ciao!