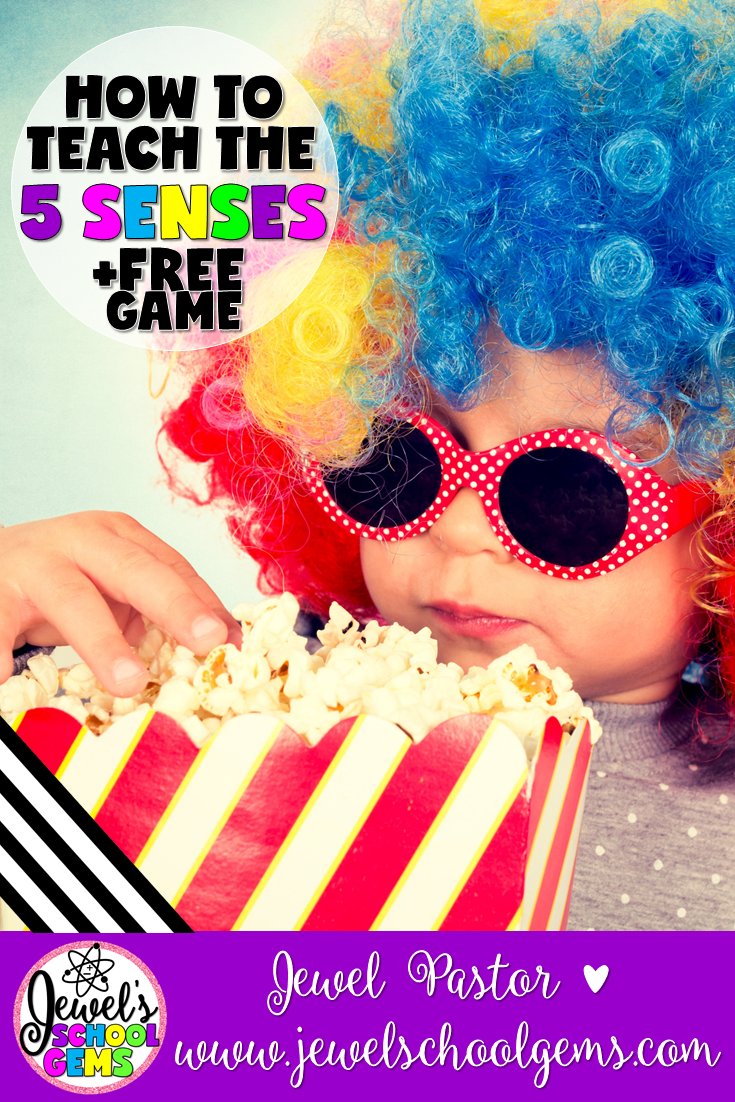 What Are the Five Senses and Why Are They Important?
Okay. I guess, as a teacher, you already know this, but it wouldn't hurt to be clear anyway: the term five senses pertains to the usual five recognized methods of perception or sense: sight, smell, taste, hearing, and touch. We all know how important our senses are. It goes without saying if one of them stops working properly or goes missing, it will be really hard for any of us who are used to having all five to live normally.
Why Is It Important to Teach the Five Senses?
Teaching the five senses to our students is really important because children need to have an understanding of the world they live in. Understanding comes through their experiences of this world that they can only have through their five senses. It's also important that we emphasize to our kids the importance of the five senses since our senses do more than let us see the sky, smell a flower, taste a sandwich, hear the music from the radio, or feel snowflakes against our skins. The five senses also enable all of us to learn, enjoy different activities, protect ourselves, and have a clear picture of the things around us.
Teaching the Five Senses to Kids
Kiddos can learn about the five senses in soooo many ways. Some of the best and most effective ways to teach about five senses are usually a combination of hands-on activities and printables.
Here are some ways you can teach about the five senses:
Do a pre-assessment of your students' knowledge with this FREE matching game. Print out the sheet, laminate for durability, cut, shuffle, and have your students match the pictures of the body part with the senses in words.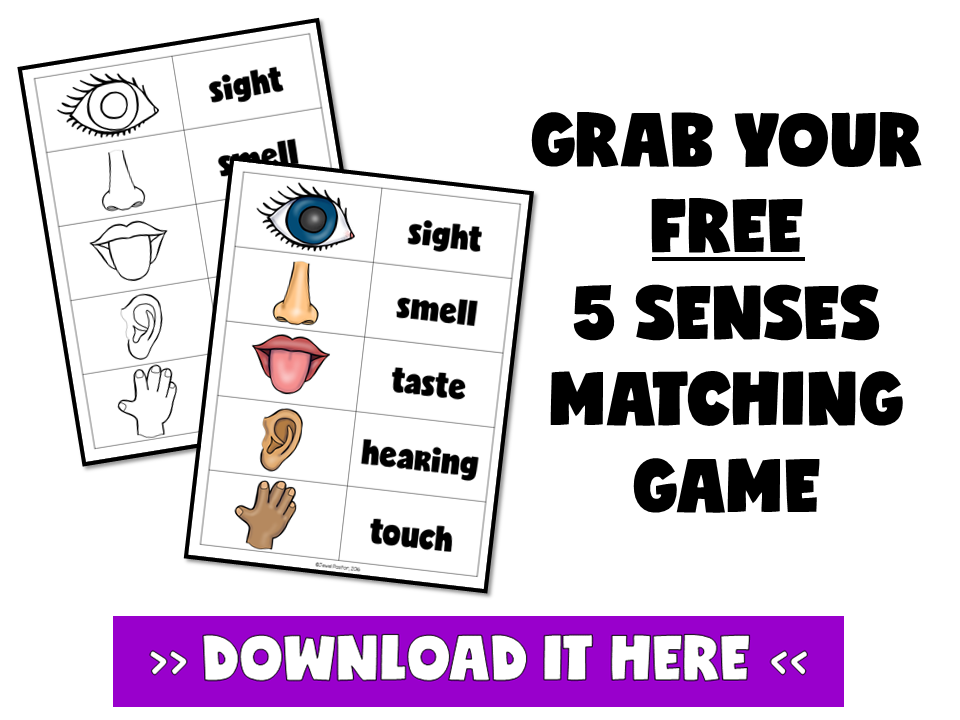 You can introduce the five senses using this PowerPoint. This resource talks about the importance of the senses, the function of each, and finishes off with a short game to check students' understanding.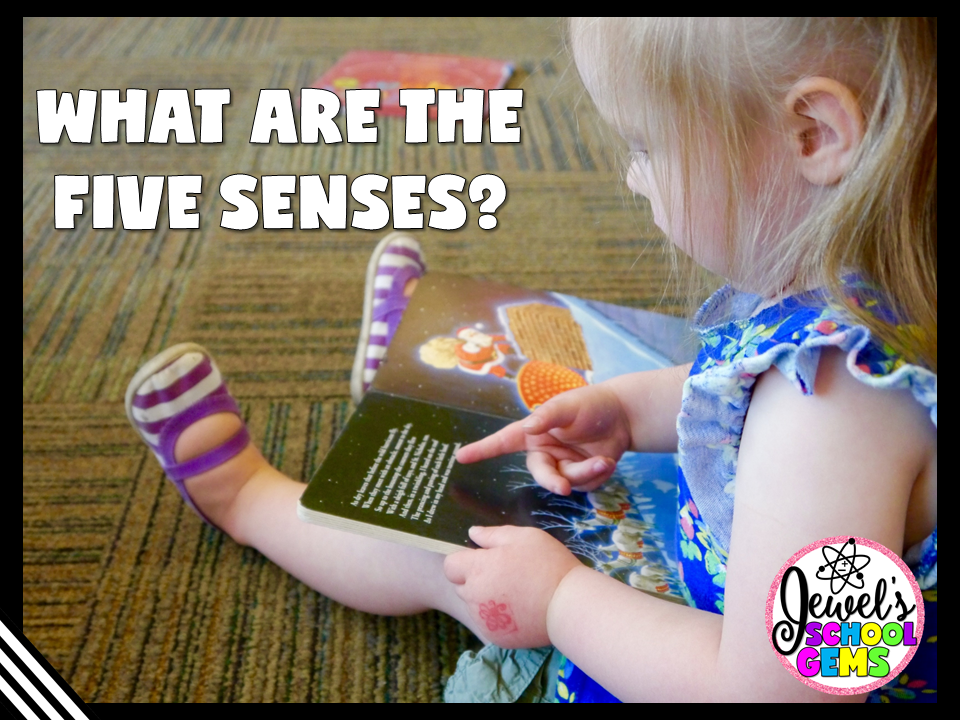 Use children's books to boost your students' understanding. Some useful titles include:

Brown Bear, Brown Bear, What Do You See?
You Can't Taste a Pickle with Your Ears
Look, Listen, Taste, Touch, and Smell
The Listening Walk
Cold, Crunchy, Colorful
To teach the importance of the sense of sight, have the kiddos do a painting each while blindfolded! This activity might sound a little messy, but surely, your students won't only find this activity fun, they'll also realize the challenges that come with not being able to use their sense of sight. Display the children's work of art later. It will serve as a reminder of how important their sense of sight is.
Smelling bottles are the rage right now. If you do a search on Pinterest, you'll be treated to a smorgasbord of ideas. Some teachers use spice bottles, baby food jars, glass jars, or even those toy egg shells that everyone loves to use during Easter egg hunts. Other teachers put actual food inside the containers while some just use cotton balls with scents. Some have students guess what's inside the containers with blindfolds on while others don't. No matter what you decide to do, children will benefit greatly from a smelling activity like this and become more aware of the importance of their sense of smell. You can also introduce words that are related to smell and widen your kiddos' vocabulary. Encourage them to think of words that have the same meaning as stinky, for example. Watch out for the words putrid, rotten, and foul-smelling. Sweet-smelling can also be sweet-scented, fragrant, perfumed, and aromatic. Have fun exploring new words!
Take your students on a listening tour around the school and have them listen to the different sounds along the way. Your kiddos can write down the sounds they hear in their notebooks. Have the kids draw the sources of the sounds they recorded and write down the sounds as they heard them. It's okay even if your students don't know how to spell yet as this can be a starting point for listening to sounds and mimicking them in writing. You can also encourage your students to use their sense of hearing by listening for and writing down the different sounds that they can hear in other places outside school, like the mall, park, restaurant, or their own houses.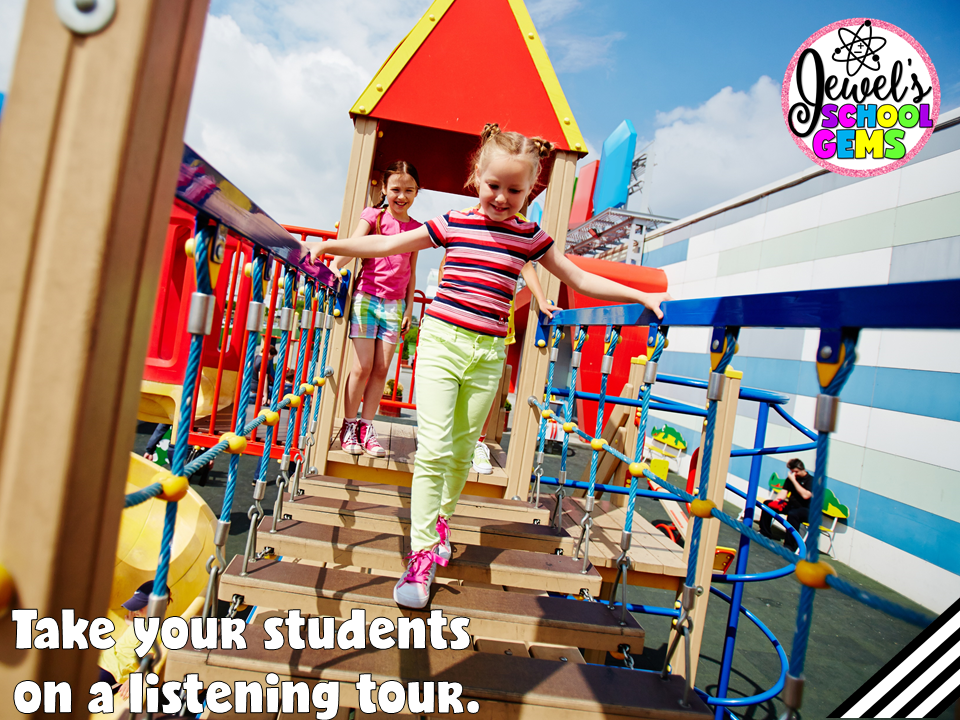 Have your students explore their sense of taste by exposing them to various food with different tastes, such as salty, sweet, sour, bitter, and spicy. It can be as simple as putting salt, sugar, lemon juice, cocoa powder, and ground pepper on separate saucers, and have the children taste each then describe what they tasted. You can also encourage your kiddos to think more about tastes by asking them to name food that taste salty, sweet, sour, bitter, or spicy. Create an anchor chart as a class of all their responses. Always take note of allergies, however, before doing any tasting activities, of course.
There are soooo many activities to explore the sense of touch, but they only have one thing in common: they're so much fun! Setting up mystery boxes with various objects is one activity that your students will enjoy. I've seen some teachers use empty tissue boxes or shoe boxes for this kind of activity. The boxes are wrapped nicely and a hole is left on each for students to stick their hands in and feel the mystery object. Students have to describe the object as soft, rough, smooth, hard, or prickly, and guess what it is. You can do a mystery object reveal afterwards as a whole class.
Instead of having a separate task for each sense, you can also have one activity exploring all five senses. You can let students explore a certain food, for example. I know of teachers who use popcorn and marshmallows for this kind of activity. Students describe the popcorn or marshmallow by using their five senses. You can then do an anchor chart of responses to reflect the students' understanding. Easy-peasy.
To consolidate your students' learning, they can use interactive foldables like this flipbook or this wheel. The flipbook is perfect for students who can already write, while the wheel can be very helpful to younger students as it can serve as guide while they're explaining their understanding of the five senses.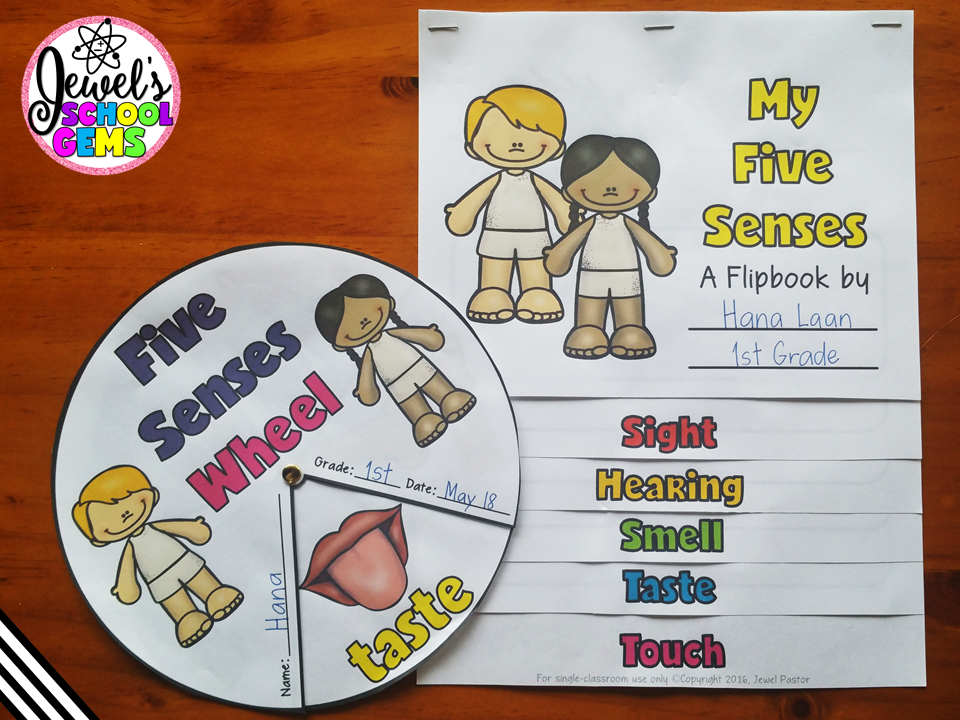 Teaching the Five Senses with Jewel's School Gems
 I currently offer a Five Senses Activities Bundle, which includes the following:
a PowerPoint introducing the five senses and discussing the function of each
a flipbook that features the body part associated with each sense and what they can see, hear, smell, taste and touch/feel using the five senses
an interactive wheel that students can make and use to present their understanding of the five senses.
The resources in this Five Senses Activities Bundle will not only save you time, but make learning about the five senses engaging for your students as well.
Want More Teacher Resources for FREE?
Save yourself valuable time and sign up to access my Free Resource Library!  Your students will surely enjoy learning about the five senses and other Science topics with my resources!