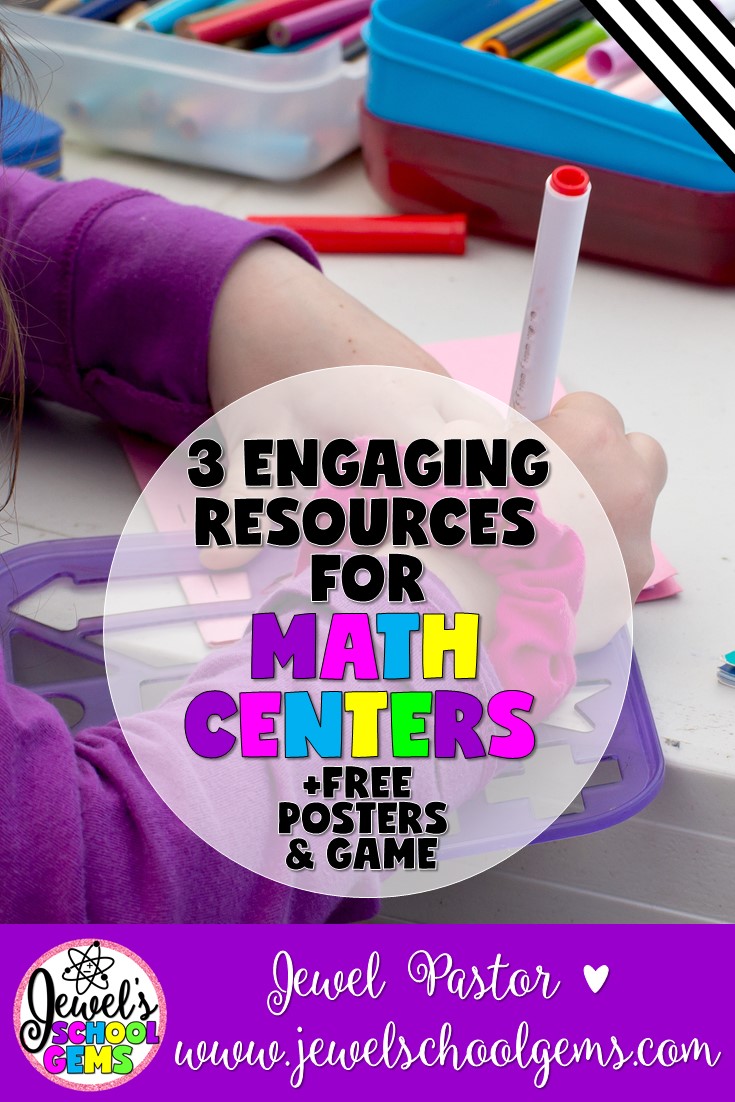 Need some fresh, fun and fabulous resources for your Math Centers? Look no further, my fab friend!
As teachers, we love the way centers make our classrooms seem to run on auto-pilot, but we don't always love the time it takes to put them together, or the time we must spend looking for resources that are simple to implement, effective for learning and easy to set up. Setting up centers, whether for Reading, Language Arts, or Math can be a tiresome task. Discovering new and engaging resources that are ready-made (and both teacher-friendly and student-friendly!) is like a ray of sunshine in a teacher's day!
In this post, you'll read about three of my  awesome Math Center resources that I know can offer a great deal of learning for your students, as well as making your teacher-life a lot easier! Whether you're a newbie at Math Centers, or just in search of some new Math Center resources, these comprehensive Math Center activities are just what you need!
Here is a Math Center Bundle that will turn your students into math champs! This bundle has three huge sets of center activities that ensure you your kiddos:
have a sense of what numbers mean
can understand their relationships to one another
are able to perform mental math
can understand symbolic representations
can use those numbers in real world situations
Yep! My Number Sense Activities Bundle: Mental Math, Word Problems and Numbers covers a wide array (pun intended!) of math concepts within the three sets detailed below. Bundles offer BIG SAVINGS, so let's take a moment to look at how each resource within the bundle can help you and your students!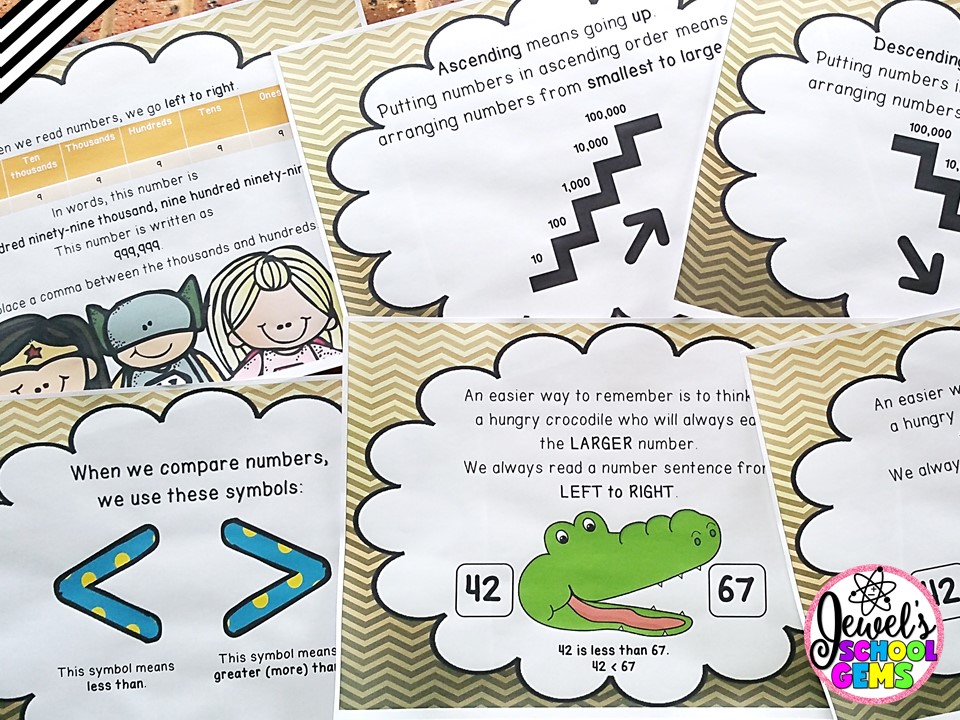 Number Sense Activities and Task Cards
This resource contains more than 300 task cards, displays and worksheets that can be used to build and strengthen your students' number sense, reading skills and understanding of whole numbers to 999,999! This set can work well for students in grades 1-6, depending on their individual math level, and will enable you to differentiate for their individual needs.
Through this resource, your kiddos will be able to practice:
Reading and writing numbers to 999,999 by matching digits to numbers in words, guessing numbers before and after certain numbers, and underlining the numbers in the sentences and then answering the questions.
Ordering numbers to 999,999 by circling the smallest number and underlining the largest number in a group of numbers, arranging sets of numbers in ascending order then descending order.
Creating and comparing numbers to 999,999 by using the correct symbols: <, > or = using digit cards to record answers to questions.
You can try one of the activities in this resource by becoming a Jewel's School Gems subscriber and downloading the freebie below: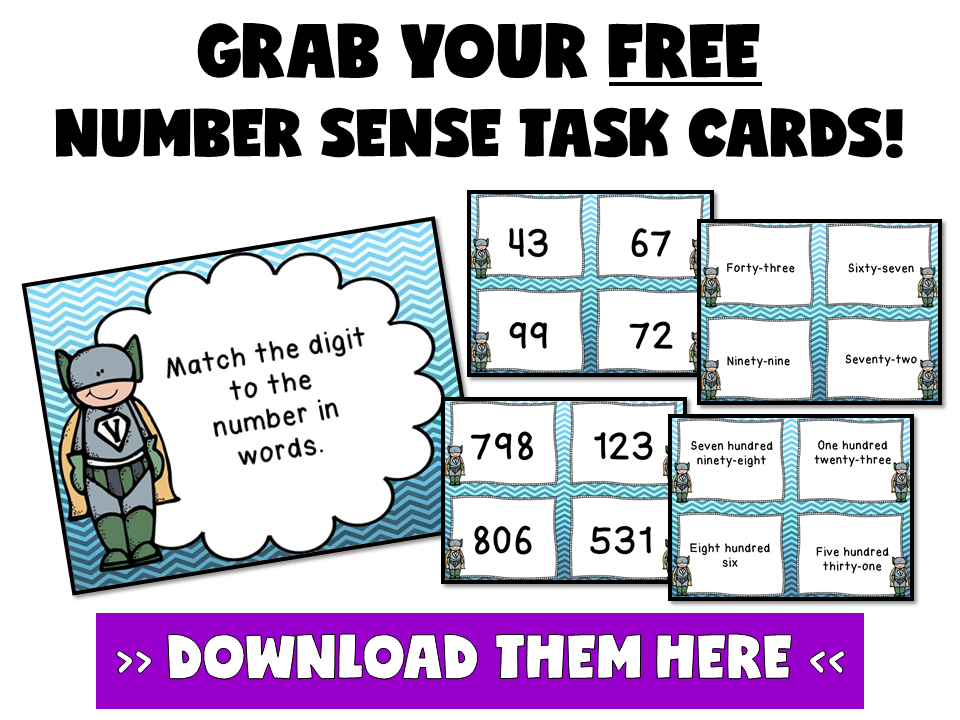 You can print, cut and laminate the cards depending on how far you would like to go in terms of the number of digits. Once laminated, with the use of erasable markers, the task cards can be used over and over in your Math Center. You can put the cards in separate envelopes and/or place inside folders that you can label using the covers provided. Whole pages can be printed and laminated too to serve as answer key for independent learners or can be flashed for the whole class to see using the interactive whiteboard. The introduction that comes with each activity can be printed and enlarged and placed on bulletin boards. You can always have your students work on the tasks by pairs or groups and in rotation.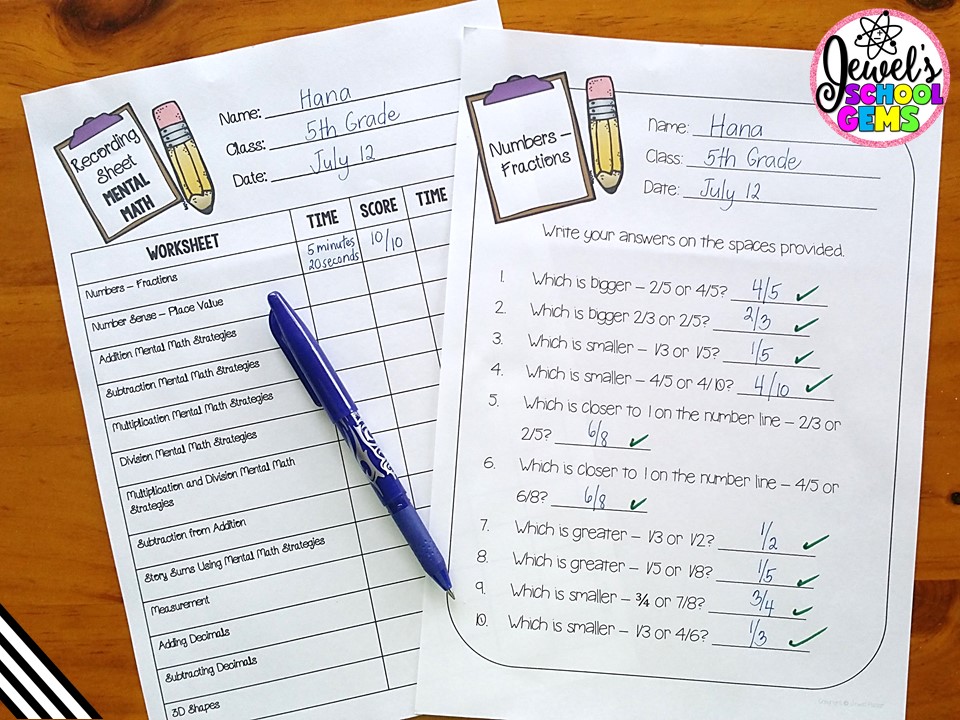 This resource consists of worksheets with Mental Math number and word problems that can help students have sharper mathematical skills, be more confident with Math, and develop a love for the subject. This set works well for students in Grades 3-6 and covers: 
Numbers – Fractions
Number Sense – Place Value
Addition Mental Math Strategies
Subtraction Mental Math Strategies
Multiplication Mental Math Strategies
Division Mental Math Strategies
Multiplication and Division Mental Math Strategies
Subtraction from Addition
Story Sums Using Mental Math Strategies
Measurement
Adding Decimals
Subtracting Decimals
3D Shapes
For your center, you can print and laminate each worksheet to serve as master copies, then have your students record their answers in their notebooks. You can also laminate the answer keys so students can mark their own work. You can have your students record how fast they can finish the sheets each time and their scores through the recording sheet included in this resource as well. Use these worksheets repeatedly until your kiddos master the skills or mental strategies involved.
 Word Problems Worksheets and Problem Solving Strategies Posters
This another great resource included in the bundle. This all-inclusive set of word problem-related worksheets also includes a set of Problem Solving Strategy posters (that you can get for FREE when you become a subscriber) to supplement the enclosed worksheets. The posters will help to teach students the many different strategies they will need to solve word problems. This resource consists of worksheets with almost a hundred real-life word problems. The topics included are the following:
Adding and Subtracting Decimals
Rounding Off Decimals
Percentage
Multiplying Decimals by Whole Numbers
Division by Non-Zero Whole Numbers
Fractions (Vocabulary)
Addition and Subtraction of Proper Fractions
Addition and Subtraction of Improper Fractions
Multiplying a Simple Fraction by a Whole Number
Prime and Composite Numbers
Perimeter
Area
Volume and Capacity
Chance and Probability
Interpreting and Using Timetables
Direction
Transformations
These worksheets are PERFECT for math centers, or as tutoring materials, cooperative work, and even for home practice as well!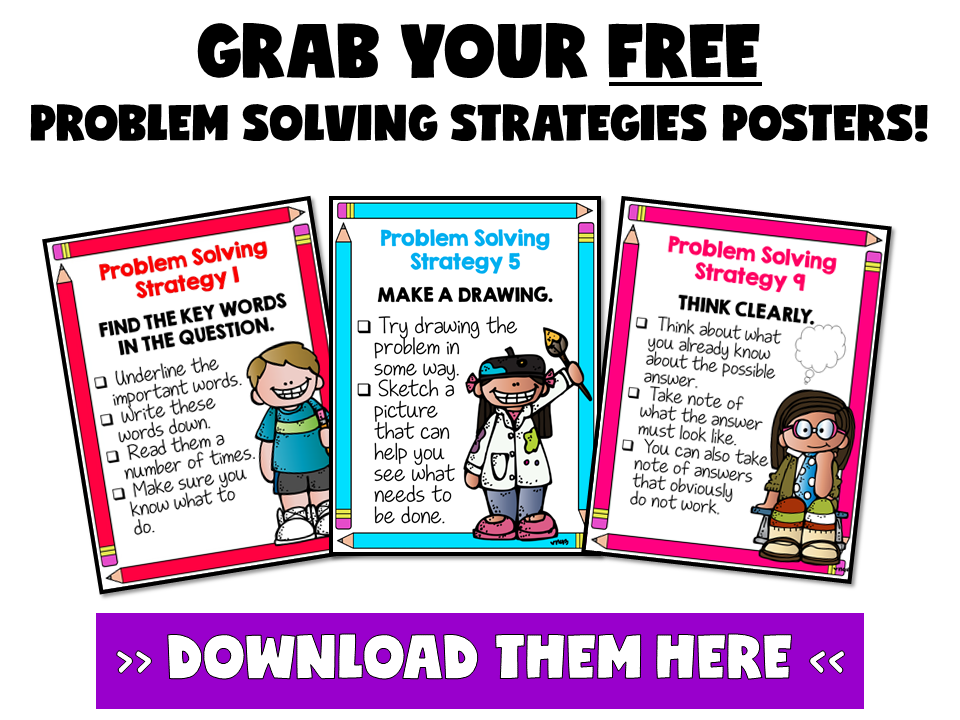 I'm pretty confident about the quality of these resources since I used them with my own classes, but don't just take my word for it. Here is some feedback from wonderful teachers like you who made the wise decision to purchase these resources from my Teachers Pay Teachers store:
 Number Sense Activities Bundle: Mental Math, Word Problems and Numbers
 On April 21, 2015, Disa Loizzo said:
So many great activities that can be differentiated to fit all students' needs!
Number Sense Activities and Task Cards
On August 31, 2015, Candice A. said:
Wow, thank you for making this. I couldn't have done it better myself. The part I love the most is all of the number sense concepts that are addressed.
On October 18, 2015, Kristine V. said:
I am using this as a tool to strengthen mental math skills in middle school students who simply never got it. I am all printed and ready to begin. It looks SO promising!!!
Word Problems Worksheets and Problem Solving Strategies Posters
On July 7, 2015, LISA M. said:
Love these!!! I have been using them for extra activities and practice. An excellent package, well prepared!
So, there you go – three engaging resources for your Math Center and a couple of freebies! Make sure to become a Jewel's School Gems subscriber to download these fabulous freebies, my friend!
What are your best ideas for Math Centers? I'd love for you to share your thoughts with a comment below!