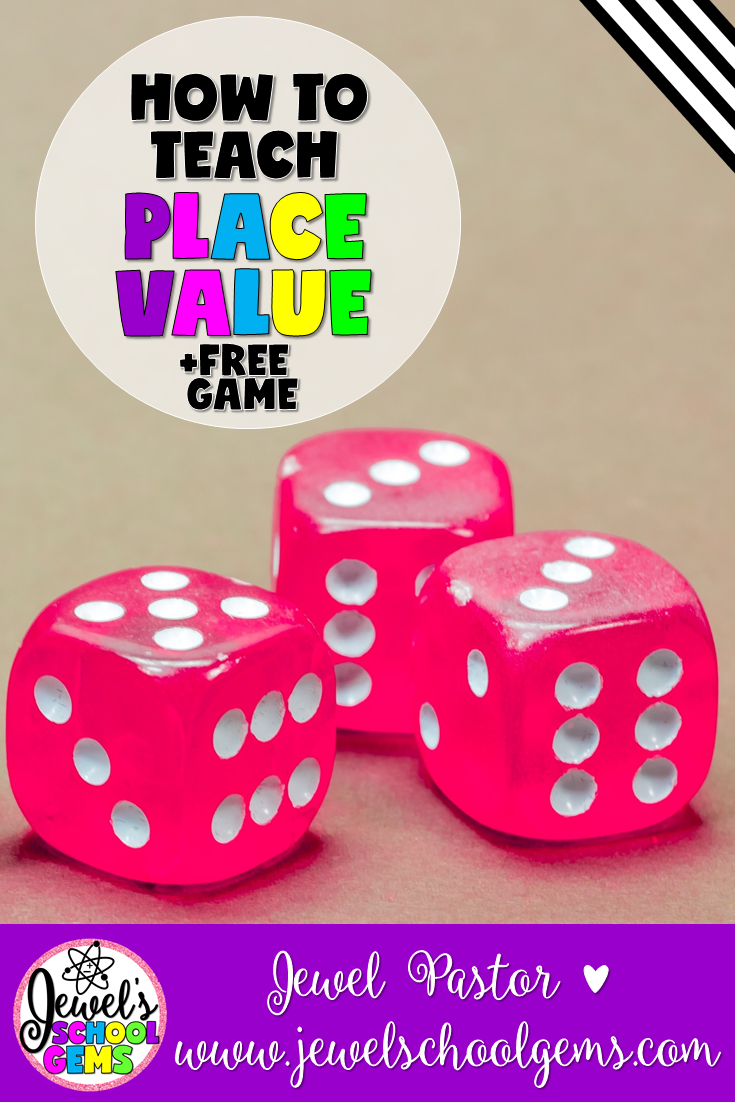 WHAT IS PLACE VALUE?
Do you remember learning about place value in school? For some, it's probably easy, but for many… well, it can be a bit tricky. Simply put, place value is basically just the value of a digit, depending on its position (in a multi-digit number), such as ones, tens, hundreds, and thousands place. Place value is an important concept that your students will need to carry with them as they advance in their math studies. Through experience, I learned that if a student doesn't grasp the concept early on, Math will become very stressful and frustrating for them later. It's important then that we make sure they comprehend it!
WHY IS IT IMPORTANT TO TEACH PLACE VALUE
Place value is important for students because it's truly the meaning and value of numbers, rather than numbers being an abstract symbol.  By conquering this concept, students will learn number value, patterns, sequencing, organizing and the correct structure for numbers. Math skills are also cumulative so students need to become proficient with place value.  They will need this skill to perform simple computations—and later, multiplication and division. Students need to grasp place value and become fluent in the language of place value, in order to become proficient in higher level math skills as well.
TEACHING PLACE VALUE TO KIDS
There are various ways in which your kiddos can learn about place value—and yes, there are even many fun ways to learn it, too! Some of the best, most effective ways to teach about the concept are usually a combination of manipulative activities and printables. I've had lots of success (and so have many other teachers) with this fun and engaging set, which includes both hands-on and printable place value practice!
Once you feel that students have a basic understanding, you need to make sure their knowledge and capabilities with place value will continue to grow. Here's how:
Teach place value using food! For example, goldfish crackers can stand for hundreds, gummy bears for tens, and marshmallows for ones. Add more goodies as you go to higher place values. Your students are sure to remember your lesson!
Use children's books to boost your students' understanding of place value and base ten in your math lessons. Some useful titles include A Place for Zero, A Million Dots, How Much Is a Million, Sir Cumference and All the King's Tens, Two of Everything, and One Grain of Rice.
Have students play whole group activities about the concept like my Place Value Digit Game! Students form numbers and answer questions related to the place value of the digits included. Subscribe to my Free Resource Library and get it for FREE!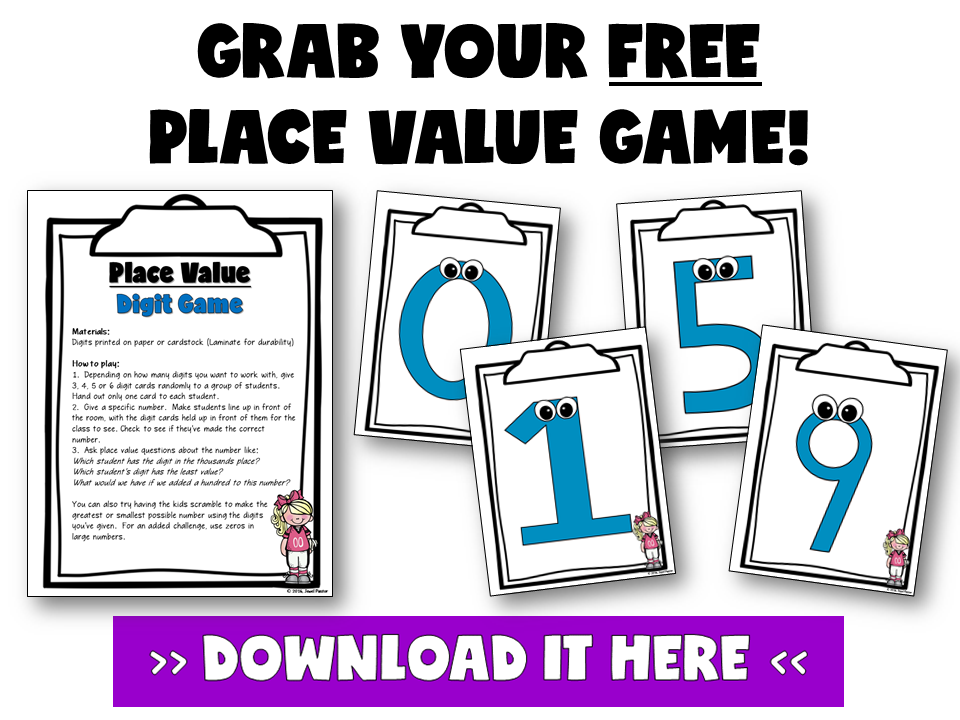 Teach kids about place value of hundreds, tens, and ones while playing with dice! Have them roll the dice and write the numbers they come up with in a practice sheet. It can look as simple as this:
_2_(hundreds)_5_(tens)_6_(ones) = 256 = two hundred fifty-six 
Use a place value chart and manipulatives like Lego bricks! You can look up how Crystal of Science Kiddo used Lego bricks to teach her son about place value. You can also have your students create place value towers to understand this topic like Ashleigh's students did.
Once students seem to have understood the concept, start playing "whole group" rounding games/activities on your big screen with a doc camera/paper or your computer screen projector.
TEACHING PLACE VALUE WITH JEWEL'S SCHOOL GEMS
I currently offer a place value activity pack, which includes I Can Statement posters, an introduction to place value, worksheets from two to six digits, cut and paste activities, and a group game (which you can get for FREE if you become a Jewel's School Gems subscriber). This packet explores place value blocks, digit values, standard form, and expanded form. This resource will not only save you time, but make learning about this important topic engaging for your students as well.
WANT MORE TEACHER RESOURCES FOR FREE?
Save yourself valuable time and sign up to access my Free Resource Library!  Your students will surely enjoy learning about Math topics with my resources!
 What are some fun ways that you've had success with teaching about place value? Please feel free to share your ideas in the comments below.