This is a post about what STEM is.
It's about what it means to STEM educators and authors who have dedicated much of their time in designing and creating meaningful resources for teachers like you.
It's about answering this question:
What is STEM? So teachers who are new to STEM or are clueless about it will gain a better understanding of it.
It pays to understand what STEM is when you are just starting out as this can make the difference between quitting and persisting, doing craftivities and engaging in authentic STEM activities, or focusing in the product than in the process.

And this was the post that I wish I had been able to read when I was just starting out in STEM.
I'm so excited to share the wisdom that these generous STEM educators have shared. My hope is that it brings clarity and value to the clueless and beginning STEM teacher out there.
Related: 50+ STEM Challenges for Elementary Students
Natasha and Claire, Vivify STEM
STEM Definition: "Successful STEM education is an empowering interdisciplinary approach that brings math and science concepts to life through problems that mimic the complexities and excitement of the real world. STEM revolves around the Engineering Design Process that embraces failure, relies on teamwork, and requires critical thinking and creativity. While exciting, educators often become intimidated as a search for curriculum leads to an overwhelming range of activities from index towers to robotics competitions. At Vivify, we believe that not all STEM is created equal. Educators should adopt a 3 Stages of STEM approach by progressively building towards more complex projects."
About: Vivify is a team comprised of two Aerospace Engineer friends, Natasha and Claire, who live in Texas. These former college classmates and roommates at Texas A&M University share a passion for STEM education and spend their free time providing resources to encourage and equip future engineers. You can find Natasha and Claire HERE.
Carol, Teachers are Terrific
STEM Definition: "STEM is a project approach to learning. Students follow the Engineering Design Process to complete tasks that solve a known problem. They apply what they know about Science, Technology, and Math as they use Engineering for their designs. The trial and error of STEM projects is the best learning we can provide. Kids learn to persevere even when the task seems impossible. They approach the task in many different ways, improve on their designs, and finally prevail with something that works. I love watching students solve problems in so many different ways. Kids need STEM!"
About: Carol is a classroom teacher with 30 years of experience in grades 3-5 and 6 years as a STEM Lab teacher. She loves creating projects for students and exploring with them! You can find Carol HERE.
Brooke, Brooke Brown — Teach Outside the Box
STEM Definition: "STEM instruction incorporates Science, Technology, Engineering, and/or Math within a student-driven design process. STEM challenges require real world problem solving, imagining, planning, creating, testing, improving, and reflecting. STEM should promote creativity and collaboration among students."
About: Brooke specializes in all things literacy and STEM and is currently in her fifteenth year of teaching in Oklahoma. She has a passion for creating innovative products to meet the needs of her students while fostering memorable and engaging learning experiences. You can find Brooke HERE.
Meredith, Meredith Anderson — Momgineer
STEM Definition: "STEM is about using a simple process (the Engineering Design Process) to solve real-world problems through creativity, ingenuity, and perseverance: trying, failing, and trying again."
About: Meredith is a STEM educator and mechanical engineer who loves gorilla tape, robots, and all STEM activities except ones involving food. You can find Meredith HERE and at STEM Activities for Kids.
Related: STEM: Not Just Another Craftivity
Lisa, Lisa Taylor Teaching the Stars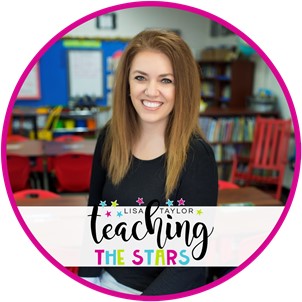 STEM Definition: "Don't be hard on yourself! It's not going to be a perfect product. It's messy and that's okay. The learning is in the process! When students are given the opportunity to explore, design, and create, they are doing the thinking and learning! STEM activities and challenges give students the opportunity to be innovative and to think critically as they learn to collaborate with their peers. Good luck! STEM is so worth it! Don't give up!"
About: Lisa is a 5th grade teacher and mother of two who has taught for 20 years in grades 3-5. She loves teaching and creating innovative teaching resources. You can find Lisa HERE.
Carly and Adam, Carly and Adam
STEM Definition: "STEM is an interdisciplinary approach to teaching. While STEM stands for Science, Technology, Engineering, and Math, it can include additional subjects as well such as Art or Social Studies. By teaching these subjects together, students are better able to see how they are connected, and how they relate to the real world. What we love most about STEM is that it is highly engaging for students. Students often get so caught up in a challenge that they forget they are learning. Our favorite STEM moments are seeing disengaged and struggling students finally experience success and find confidence."
About: Carly and Adam are full time STEM curriculum developers who love helping teachers integrate STEM in their classrooms. You can find them HERE.
Kerry, Kerry Tracy
STEM Definition: "STEM challenges are hands-on, open-ended, student-centered, problem-solving, and near-magical activities that can help students learn that failure is not an enemy; it's just data. They give you an opportunity to incorporate Science, Technology, Engineering, and Math, as well as any other subject areas you desire, if you know where to look! At the same time, they're a perfect way to work on growth mindset and the 4 Cs (collaboration, communication, creativity, and critical thinking). When done well, STEM Challenges are often fun — but never fluff."
About: Kerry holds a master's degree in Design-Based Learning and creates STEM Challenge resources and PD to help teachers bring more rigor and joy to their students (and themselves) every day! You can find her HERE and at Feel Good Teaching.
Jewel, Jewel's School Gems
STEM Definition: "STEM is a way of teaching that focuses on the skills students need to learn Science, Technology, and Mathematics, and how they can use the Engineering Design Process to find a solution to a problem. Some of the skills developed by STEM are critical thinking, teamwork, creativity, communication, perseverance, and digital literacy. These skills can provide students with the foundation to succeed in school, in the workplace, and in real life."
About: I love creating fun STEM activities for kids so that elementary teachers like you can save time preparing and focus more on teaching. You can sample my work by signing up HERE.
Related: A Guide to Bible STEM Challenges
Well, there you have it — eight quotes that answer What is STEM? from some of the most well known people in the field. Read through them a few times and see which one best resonates with you. Good luck!
Save yourself valuable time and money by becoming a Jewel's School Gems Club member. Hundreds of STEM resources plus a minimum of 52 new resources each year at your finger tips! Click here to learn more!