It always shocks me when I walk into my classroom the day after Halloween and see "November" on my calendar. Already? October is so packed with special days that I am never quite ready for it to be November. My planning has holes in it and I am still trying to figure out how to fit everything in! This year Thanksgiving comes very early, making it even more difficult for many teachers.
One solution I thought of to make it easier for teachers like you is to tie several concepts and areas together with my three Thanksgiving STEM challenges. For these challenges, your students will design and build a Mayflower ship, a Thanksgiving table, and a turkey trap.
The Mayflower STEM Challenge is so much fun for kids to create with materials you probably already have in your classroom. Challenge your students to design and build a Mayflower ship using popsicle sticks, drinking straws, skewers, cling wrap, colored paper, and bottle caps. Challenge them to make the ship float while holding marbles without sinking or toppling over.
Use the STE(A)M links I have provided, grab some books from the library about life on the Mayflower, and add a writing activity for a complete mini unit.
The Thanksgiving Table STEM Challenge also uses easily obtainable, inexpensive materials. Challenge your students to design and build a Thanksgiving table using drinking straws and tape. Challenge them to make sure it can fit eight (8) Thanksgiving dishes.
The STE(A)M links I provided expand learning into several other content areas. One teacher also created a writing connection by having her students design a pretend cookbook of recipes for the items on the table.
Students LOVE the Turkey Trap Challenge. Again, the materials are easy to come by and inexpensive. Challenge your students to design and build a turkey trap using popsicle sticks, skewers, and yarn/string. Challenge them to make sure it works and can capture a tom turkey.
If you want to expand this challenge beyond the STE(A)M links, add a writing assignment such as "How the Turkey Got Away".
Just like my Halloween STE(A)M challenges, each packet in my Thanksgiving STEM Challenge Bundle contains clear student directions, photos of possible finished products, suggested materials and photos, and building and vocabulary worksheets. Additionally, for your convenience I have added ways to modify the challenges, STE(A)M links and the Next Generation Science Standards covered.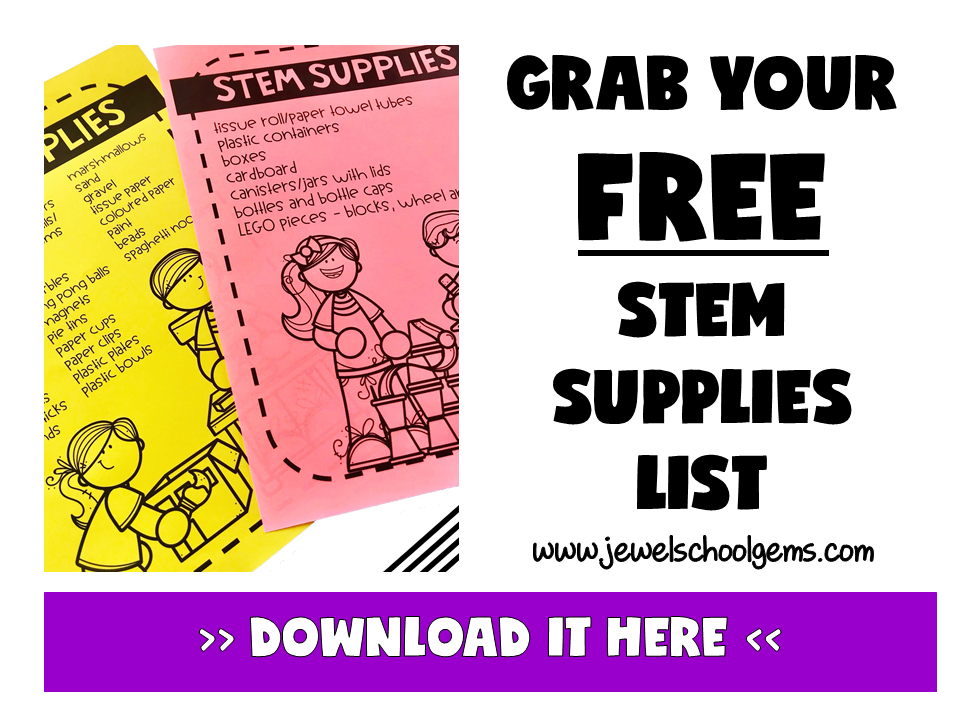 Want STEM Resources for FREE?
If you want a copy of my STEM Supplies List for FREE, just sign up to become a Jewel's School Gems subscriber to access my Free Resource Library! Get this list plus many other Science and STEM resources. Sign up today!