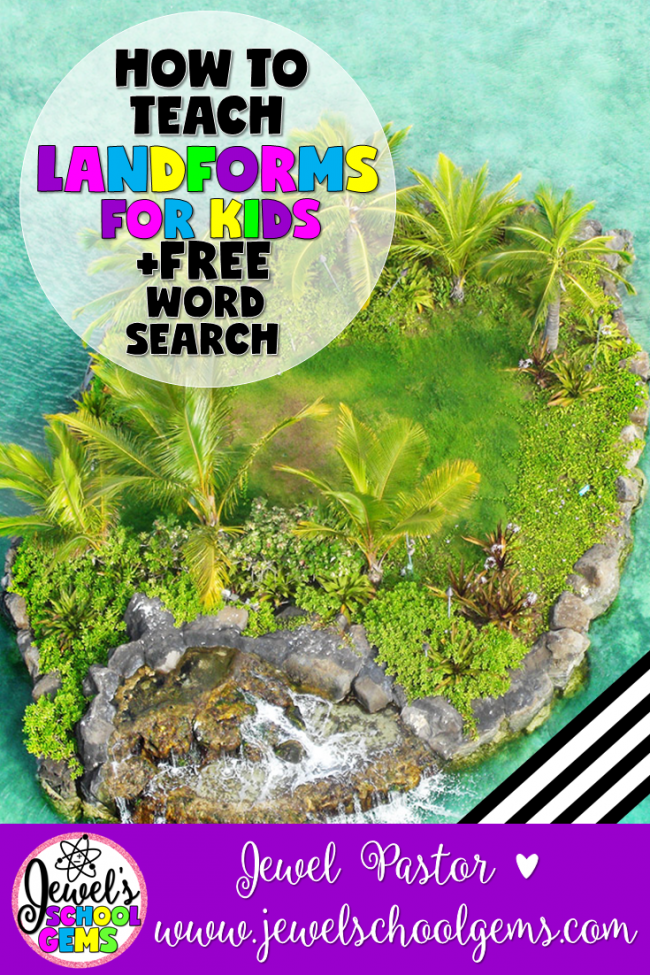 What Are Landforms and Why Are They Important?
Landforms are the different physical features of the Earth's surface. The mountains, hills, valleys, plateaus, plains, and deserts that we all know are just a few examples of landforms. These geographical features are important not only because they make up one-fourth of our world, but they also regulate the ecosystem, climate, and weather, making it possible for humans like us to live.
Landforms for Kids: Why You Should Teach It!
Why teach landforms? Well, since it's on the curriculum, you have to, my friend! LOL! But kidding aside, there's at least a couple of important reasons to do so. The Earth as we know it today wouldn't be as magnificent as it is without these landforms. The high and low places, together with the dry and wet areas, make up for such a wonderful planet. By teaching the landforms to your students, you're helping them to gain an appreciation for the beautiful world we live in. Aside from this, by teaching the landforms, your class will also know that natural processes and even disasters, such as earthquakes and eruption of volcanoes, though quite harmful sometimes, help create the various shapes of the land. The challenge lies, however, on how you can make learning about these geographical features fun!
Teaching the Landforms for Kids
We all know that kids love to have fun and learning about the landforms should be fun! Good thing there are many different ways in which each child can learn about the landforms! You can teach them all the facts using an engaging resource like my Landforms Activities Bundle, then, to extend your students' understanding, you can have them:
Do a word search puzzle (you can use this FREE landforms word search that can be found in my Free Resource Library!)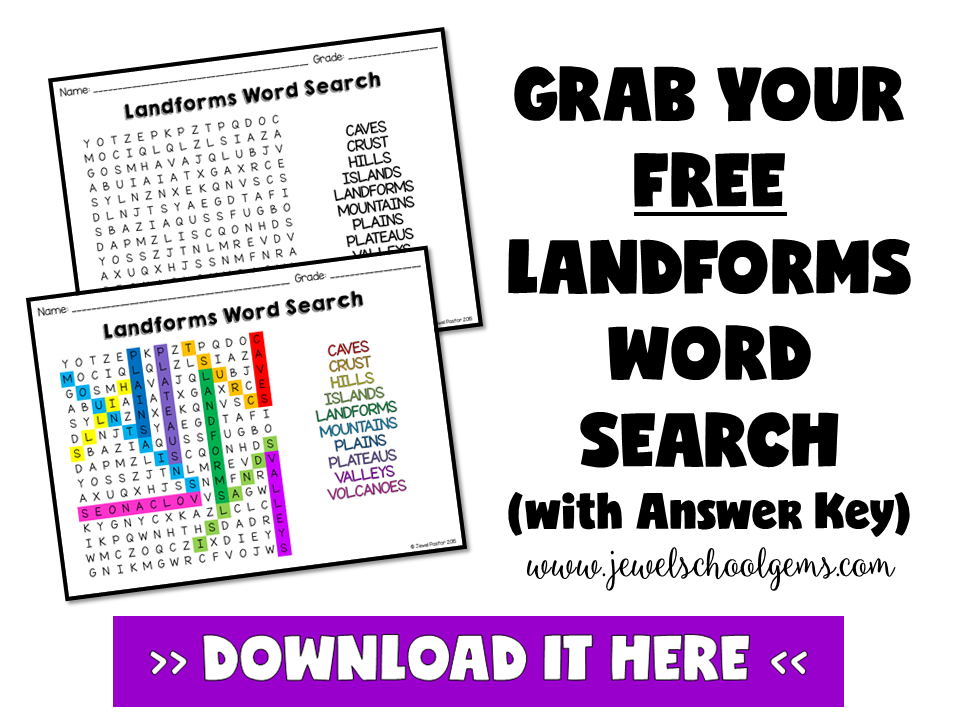 Read several picture books that feature different landforms, such as the following:

Ming Lo Moves the Mountain by Arnold Lobel
Tsunami! by Kimiko Kajikawa
The Turtle and the Island: A Folktale from Papua New Guinea by Barbara Ker Wilson
Cactus Hotel by Brenda Z. Guiberson
The Mare on the Hill by Thomas Locker
Write an acrostic poem on the different landforms
Watch an educational video like this one:
Make a model of different landforms using clay or even food (if you're allowed to in your school)
Really, the options for teaching landforms for kids is only limited by your imagination!
Teaching Landforms for Kids with Jewel's School Gems
I currently offer a colorful, engaging and fun Landforms Activities Bundle resource pack.  This fantastic bundle includes an easy-to-assemble flipbook with color and blackline templates, and answer key.  It also has an interactive PowerPoint presentation that discusses vocabulary related to landforms; features key ideas and images on caves, hills, islands, mountains, plains, plateaus, valleys, and volcanoes; and includes a True or False quiz suitable for a class review. My Landforms Activities Bundle will save you precious time when planning your science lesson with its vibrant pictures and engaging activities, and effortlessly promote learning while still keeping your students' attention.
Want More Science Resources for FREE?
Save yourself valuable time and sign up for immediate access to my Growing Library of Free Science and Math Resources for very busy primary school teachers like you! Sign up today!